Creamy Salad (Mayonnaise Salad)
For those who loves cream, here is a delight for them. Mayonnaise Salad is simply delicious, refreshing and healthy salad recipe. The peppry taste and tender texture combines well with Mayonnaise. It takes just a few minutes to prepare. This salad is great to go along with a barbecue meal.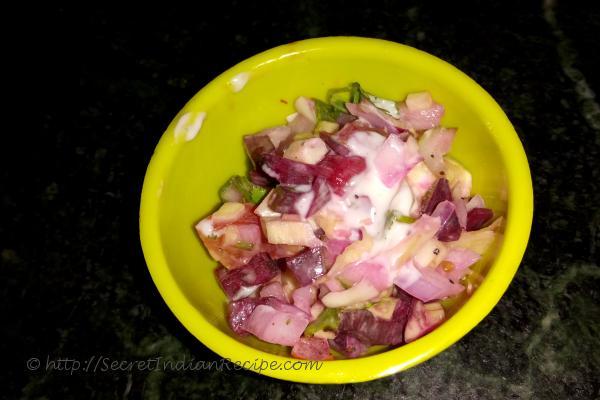 Ingredients:
Cucumber (peeled and thinly chopped) - 1
Beet root (peeled and thinly chopped) - 1/2
Cabbage (shredded) - 1 cups
Tomato (chopped) - 1
Onion (chopped) - 1/2
Fresh coriender leaves (chopped)
To be mixed into dressing :-
Eggless mayonnaise - 3/4 cup
Ginger (grated) optional
Black pepper to taste
Salt to taste
Directions:
Combine all the ingredients, together with the dressing in a deep bowl. Toss well.
Cover and chill for atleast 1 hour before serving.
Footnotes:
Toss just before serving.
Adjust the mayonnaise as per your taste.