Mango Icecream
Mango mango and Mangoes..No one can beat this fruit it's flavor and it's Recipes..No churn no icecream machine needed only three main ingredients and soft sccop able super yummy mango Icecream ready.. Icecream yes big difference between kulfi and icecream..It's an easy no boiling of milk so much just whip and chill .. Ready..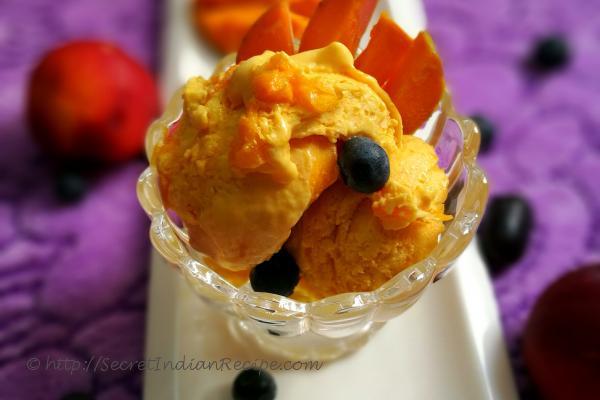 Ingredients:
1 cup or 250 ml heavy whipping cream
1/4. Cup condensed milk or add little more as per taste
1 cup thick mango and puree
2 tbsp milk powder
1/4 cup Chopped mango for garnish
2 tbsp sugar
1/4 cup apricot puree (optional)
1 apricot peeled and Chopped (optional)..
Directions:
First wash peel Chopped and pureed Alphonso or any mango if your Choice.. Don't add water.. and 2 tbsp sugar or little more as per mango sweetness ..make thick puree....Keep in fridge.. Same way peeled apricot Chopped it and puree it..
Whip chilled whipping cream till it reaches it's soft peaks..seive milk powder init..Make sure no lumps..Add condensed milk..
Mix well..Fold it gently.add mango puree add apricot puree ..If needed add condensed milk more as per your sweet taste..
Add Chopped Mangoes for more mango taste..Keep it in airtight container..For no ice granules put cling film over icecream by touching it..Cover it....
Keep it in freezer for 5-6 hours or till it sets..After 6 hours check it if it sets.. Scoop it..Garnish it with Chopped Mangoes and fresh fruits of your choice..Just enjoy your chilled mango icecream
Footnotes:
**Sugar can adjust as per your taste ** Apricot I add for more tangy and flavour..It's optional.. You can add nuts and tutti fruitty
Other Indian Recipes that you may Like !