Matki Chi Usal (moth Bean Spicy Curry) (matki Usal)
Matki chi usal is a very common Maharashtrian dish which is cooked for lunch or dinner. Matki is high in protein and can be eaten with rice or rotis.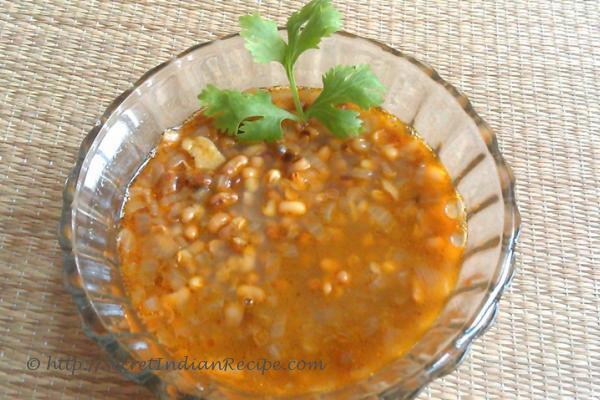 Preparation Time:
20 mins and overnight soaking of beans
Ingredients:
Matki (moth beans) - 2 cups
Black mustard seeds - 1/2 teaspoon
Asafoetida (hing) - a pinch
Chilli powder - 2 teaspoon
Turmeric powder - 1 teaspoon
Onion - 2 Medium onions finely chopped
Tomato- 1 chopped
Garam or Goda Masala - 1 teaspoon
Jaggery- 1 to 2 teaspoon
Coriander- for garnish
Grated wet coconut -for garnish
Salt to taste
Hot water - 2 1/2 cups
Directions:
Soak the matki overnight in water. Drain and par-boil the matki in a pressure cooker. (one whistle is enough). Drain and Keep aside
In a kadhai (wok) take a little oil, once the oil heats up, add mustard seeds wait till they splutter.
Then add hing and turmeric, add onions and stir fry till golden brown, add chilli powder and then the chopped tomato.
Cook till masala turns darker brown. Add matki and hot water. cook covered for 15 mins. Add goda/garam masala cook for 3 to 4 mins more.
Remove from heat and garnish with handful of grated coconut and coriander leaves. Serve hot with Rotis , Puris or Rice
Footnotes:
Tomato can be replaced with wet black kokum petals
This recipe can also be made without onion and tomato. Just add matki to the hot oil and masala tempering and cook in pressure cooker with little water. Once done remove from heat and add another layer of tempering of dry chilles and hing. Garnish with coconut and coriander
Other Indian Recipes that you may Like !