Healthy Bread Ki Chaat (bread Snack)
It just takes 10 minutes to prepare this awesome bread chaat and it can be prepared with easily available ingredients. Well bread is not so healthy but using lots of veggies can make it fibre rich and healthy. You can avoid cheese or butter to cut down the fat content. I have used margarine to balance the taste. In this bread chaat, I use lot of veggies and curd to make it a wholesome breakfast or evening snack option.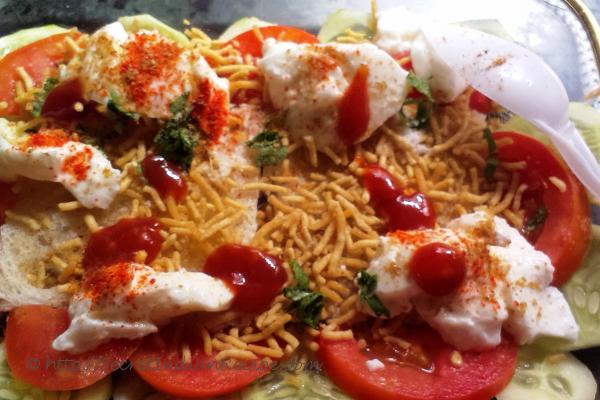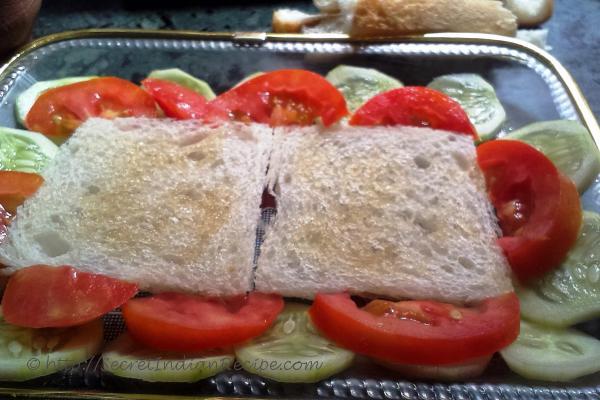 Ingredients:
Bread - 2-4 pieces (You may use brown bread)
Margerine - 1/2 tablespoon
Cucumber - 1 small sized
Tomato - 1 small sized
Home made curd - 1/2 cup
Roasted cumin powder - 1/4 tablespoon
Roasted Red Chili Powder - 1/4 tablespoon
Salt - as per taste
Tomato ketchup - 2 tablespoon
Green Coriander leaves - 1 tablespoon chopped
Sev (Gramflour fries) - 1/2 cup
Directions:
Peel the cucumber and chop it in thin slices. Chop the Tomatoes alike.
Heat butter (margarine) in a pan and toast the bread pieces over low flame for few seconds. I have used white bread, you can use brown bread if you like.
Now start the plating by first arranging the toasted bread slices. Arrange the cucumber and tomato slices next.
Flavour the curd by adding pinch of the salt and 2 pinches of roasted spices
Pour the flavoured curd and tomato ketchup over the bread and veggies.
Finally add the sev and sprinkle the remaining spices. Adjust the salt and garnish with coriander leaves.
Serve Immediately.
Footnotes:
You can add roasted peanuts , chopped onions and chopped capsicum for more flavour.