Malai Kulfi With Rose Syrup & Pistas
Making kulfi needs a lot of patience. But I have tried to make this recipe as easy as possible. It's a delicious Malai kulfi recipe.. I made it this valentines.
Hoping to win this month's contest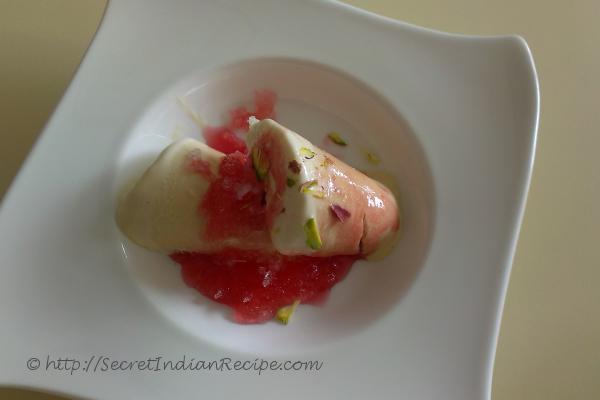 Ingredients:
Full Fat Milk 2 Ltr
Fine Sugar 1/4 Cup
Pistas: few for garnishing
Finely Chopped Almonds & Pistas: about 6 each
Full Fat Fresh cream (Unsweetened) : 2 tbsp
2 drops of rose essence (or rose sryrup)
Directions:
Take a flat and broad pan, heat mil in it on medium heat and let it simmer till it reduces to half. It should be half of its original quantity. It took me almost half an hr to bring it to its half quantity. The time will vary for all depending on the size of the pan
When it reduces to half, add the sugar, chopped nuts and few drops of rose essence or rose syrup
Let it continue simmering for another half n hour, or till it reduces to half of this quantity. (We need to bring down the milk quantity to almost 1/4th its original quantity)
When it reaches that stage it looks like a rabri/ condensed milk consistency
Now remove from heat, add 2 tbsp of full fat fresh cream mix and let it cool for 20 mins. Pour the kulfi mix in to kulfi moulds and keep in fridge for 2 hrs.. this helps to reduce the crystal formation during freezing.
Now place the mould in freezer for 12 hours. (overnight)
To serve, Put in a skewer into the kulfi centre, give a quick dip in warm water and unmould it.... drizzle rose syrup or rose coulis and garnish with chopped pistas.