Anarkali Pabda (pabda Fish Curry Cooked In Pomegranate Juice)
Myself UMA from Kolkata. l am home maker and passionate about different types of cuisine. My husband and son always encourage me to make different types of dishes. My recipe comes in newspapers and magazine and also some television channels ..My #healthyindianrecipe today is ANARKALI PABDA, in which I have used pabda fish but you can make it with any type of fish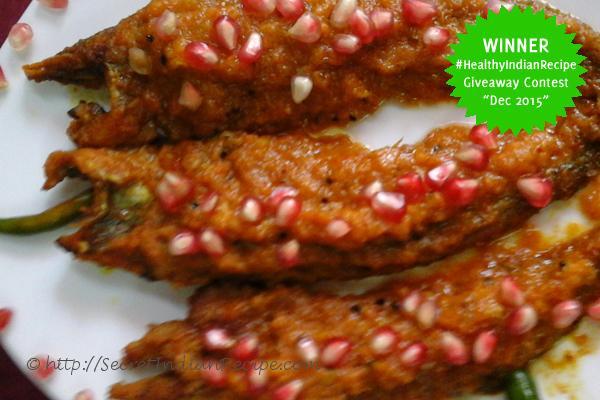 Ingredients:
200 gm PABDA fish
1/2 cup of pomegranate juice
4 tablespoon of mustard oil
1 teaspoon of mustard seed paste
2 teaspoons of red chilly powder
1 teaspoon of turmeric powder
2 teaspoon of coriander powder
1 teaspoon of garlic powder
4 tablespoons of onion paste
1 teaspoon of onion seeds
1 teaspoon of ginger paste
2 teaspoons of honey
Salt to taste
Directions:
Clean and cut the fish , wash well remove excess water and then marinate with anar juice , turmeric powder and salt.
Keep aside for 30 minutes
Heat up half of the oil in a pan and shallow fry the marinated fish from both sides until slightly brown in colour .
When brown remove from heat and keep aside
Heat up another pan and pour the remaining oil. Add onion seeds and let them splutter, add in ginger paste and onion paste fry until slightly brown in colour.
Then mix in mustard paste , red chilly paste , coriander powder , garlic powder , turmeric powder . Fry all the masala nicely until oil starts separating from the sides
Add the pomegranate juice and salt , bring to boil then slowly add the shallow fry fish and the honey.
Stir fry on a low flame till fish get cooked and oil starts flooring on top of gravy
Remove from heat and decorate with green coriander leaves and pomegranate seeds ........