Ragi Mudde (glutenfree Recipe Made With Ragi Flour)
My #IndianDietRecipe- Ragi Mudde is a healthy gluten free recipe from Karnataka. It is easy to make and is also known as Ragi Sankati in parts of Andhra Pradesh. It's one of thoese 4 ingredient recipes.. This recipe literally needs only Ragi, Salt, Ghee and Water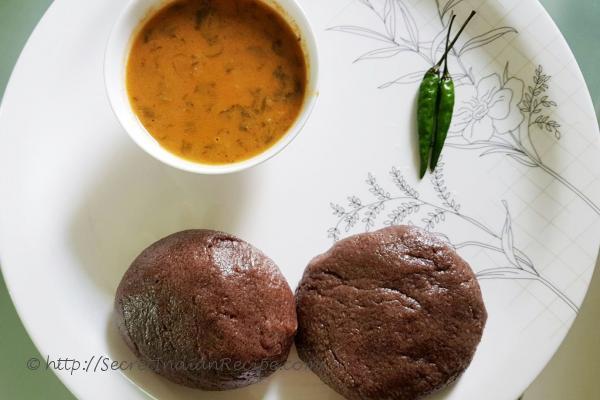 Ingredients:
Ragi Flour : 1 Cup
Water : 1 & half Cup
Ghee: 3 Tsp
Salt 1/4th Tsp
Directions:
In a deep pot heat the water and let it boil. When it boils lower the heat and add 2 tsp ghee, Salt and then add the ragi flour. Let it cook for 1-2 mins.
Remove from heat and with the help of a thick wooden stick or back (handle) of a wooden spoon stir well. Hold the vessel tight and stir vigorously to avoid lump formation
Once the mixture comes together (the consistency should something that is a little softer than pizza dough)
Now turn the heat to lowest, cover the lid of the vessel and let it cook again for 2mins. Now remove from heat and add remaining ghee and using a wooden spoon handle again mix well to avoid lumps. Place back on stove on low flame and let it cook for 1 min more
Remove from stove. Grease a plate with ghee and remove the ragi mixture in the plate.
Knead the flour using your hands lightly. (you may wet your hands with water to avoid the dough sticking to your palms)
Make two big rounds (balls) of the ragi dough as shown in the image. Serve with spinach and sprout sambar or regular sambar