Vangi Bhath (brinjal Rice)
This recipe was prepared in the cooking segment of a show on Colors TV- Subah Ki Chai. The host of the show was none other than our popular Singapore actor Kumar. As a SecretIndianRecipe homecook I was given an opportunity to prepare two recipes on this show. One of it was Vangi bhat using Maiya's Mix.. I made the recipe on the show using Maiyas vangi bhat mix, but incase you don't find this mix here's the full recipe including the masala preparation from scratch.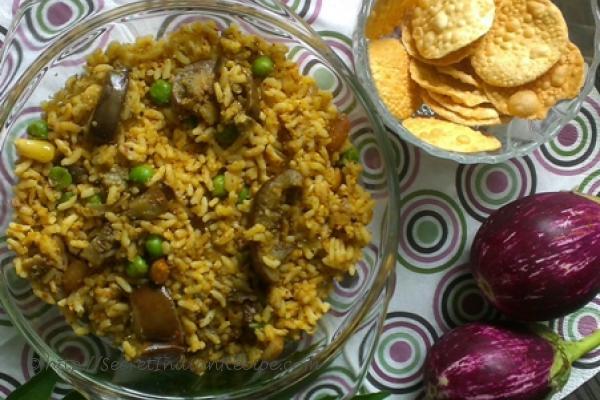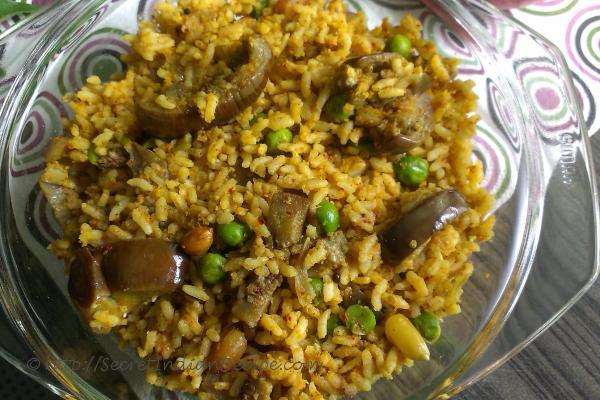 Ingredients:
Cooked Rice 2 cups
Brinjal 10 or 1 cup(slices in water)
onion 1 cup(cut into small pieces )
Ground Nuts 1 tea spoon
Oil 2 tbsp
Mustard 1 tea spoon
curry leaves 1 string
turmeric powder 1/4 spoon
salt to taste
Fried cashew 10
Green peas 3 to 4 tablespoons
To make Vangi Bhath powder(masala) *****
Urad dhal 2 table spoon
Channa dhal 2 table spoon
Coriander seeds 1 table spoon
Dhal chin. 1/2 inch
Clove. 1 or 2
Elachi or cardamom 2
Dry chillies 3 or 4(as desired)
Dry coconut. 1 table spoon
Poppy seeds. I tea spoon
Directions:
To make Masala Heat a pan and add one teaspoon oil. Roast all the masala ingredients except dry coconut. Grind the fried ingredients along with dry coconut to a fine powder. Keep aside this Vangi Bhath powder.
In a pan take oil. When it is hot add mustard seeds when it splutters add ground nut and curry leaves.
Add onion and fry till it turns pink and add Brinjal pieces and peas. Stir well.
Add turmeric powder and salt. Once you add salt it leaves little water and brinjal gets cooked fast.
Add Vangi Bhath powder and mix well..Turn off the gas and leave it for few mins after mixing it well.
Add cooked rice to the mixture and mix well . Decorate it with fried cashew nuts and serve it with cucumber raitha and fried papad.