Monthly #giveaway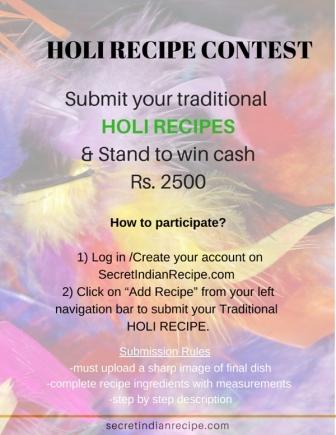 #HOLIRECIPE Contest

Brighten up the Colors this Holi with  your Traditional Indian Recipes. It's time to whip up some festive Holi delights...
 
Submit your #HOLIRecipes and Stand To Win a CASH PRIZE of RS. 2500! SUBMIT RECIPE
Terms & Conditions
ELIGIBILITY: Secret Indian Recipe's Monthly #GiveawayContest is open to all.  No purchase is necessary to compete in this contest.
ENTRY PERIOD: The Contest begins on 12 Feb 2018 and ends on 2 March 2018
HOW TO ENTER: Complete the following steps within the "Entry Period":
​>Create your account on SecretIndianRecipe.com HERE
>Submit Your Recipe entry
>We encourage you to use hash tag #HOLIRecipe in Your Recipe description on  and website.
>We encourage you to share the Link of your recipe on our Facebook page 

JUDGING:  We are looking for original recipes only with clear sharp photos and well written descriptions & method.
All recipes will be judged on the following criterias:
- Quality of recipe (the actual dish)
- Quality of recipe writing
- Final photo of the dish
 
PRIZE THIS MONTH: One winner with receive the Winning Prize
NOTIFICATION: Winner will be announced on our Facebook page
​
RECIPES MUST HAVE:  1)Title  2)Introduction  3)At least one clear original photo 4) Clear Step-wise Directions In Individual Rows

GENERAL:
>All Recipes and photos Must be Original & Not posted on any other platform/blog
>Entrants agree to give permission to SecretIndianRecipe to use their Recipe, photo(s), & name for contest promotional purpose  
​>SecretIndianRecipe reserves the right to remove recipes, photos or comments it deems inappropriate, and to disqualify contestant(s) who post such content. SecretIndianRecipe also reserves the right to refuse submissions for any reason
>Participants are encouraged to upload their profile pictures while registering their account