Kesar Pulav (saffron Rice- Non Sweet )
The usual Pulav is quite a rich recipe in itself. So I prefer making a lighter version using few ingredients just to flavor the rice. This Kesar pulav is easy to make, needs very few ingredients and can be served with curries or dal.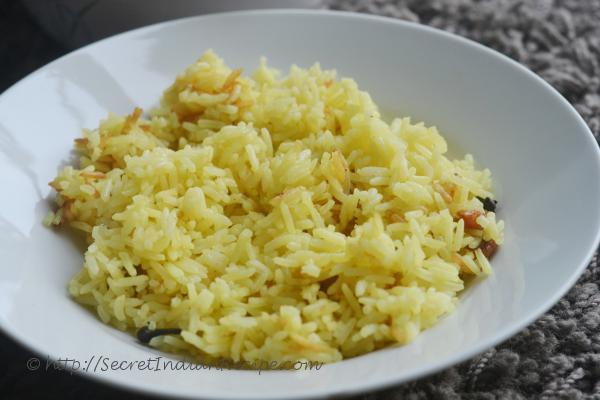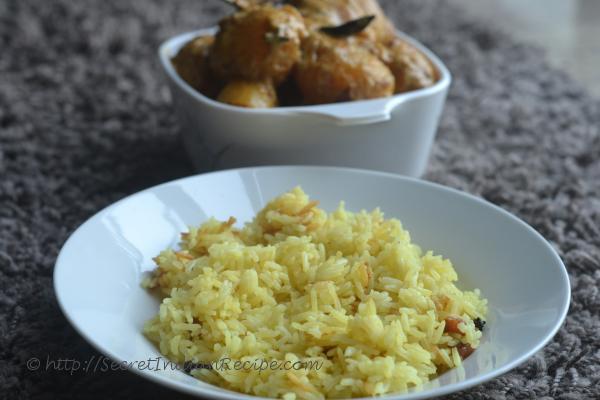 Ingredients:
Basmati Rice : 1 Cup
Warm Water : 1 Cup +3/4th cups
Ghee 2 Tbsp
Cloves: 5-6 nos
Jeera 1/2 Tsp
Raisins: 2 Tbsp
Turmeric 1/2 Tsp
Salt to taste
Kesar and warm mil mixture: 2 tbsp
Directions:
To make Kesar and Milk mixture, take a bowl with 2 tbsp warm milk and add a pinch of saffron. Set it aside.
Wash and soak the basmati rice in water atleast for 15 mins
In a pressure cooker heat ghee add jeera, cloves and allow them to splutter
Add Raisins and mix
Drain the rice and add the rice to the pressure cooker
Mix everything well. Now pour in the water and add Turmeric
Add salt as required. About 1 tsp may be required. (A good trick to make sure that the rice is well seasoned, is after adding salt, taste the rice water in pot, it should be salty enough. That's when you know the rice will be seasoned well)
Now cover the pressure cooker and cook until 2 whistles on medium heat
Turn off the heat and let the pressure release on its own
Once released, open the cooker and add the milk kesar mix and fluff and mix the rice using a fork
Cover and let it rest for 5 mins.
Serve hot!