Cabbage Sabzi Marathi Style (kobichi Bhaji)
Simple, easy 15 min recipe. A quick fix after a long workday. Cabbage stir fried with just peas, turmeric and salt.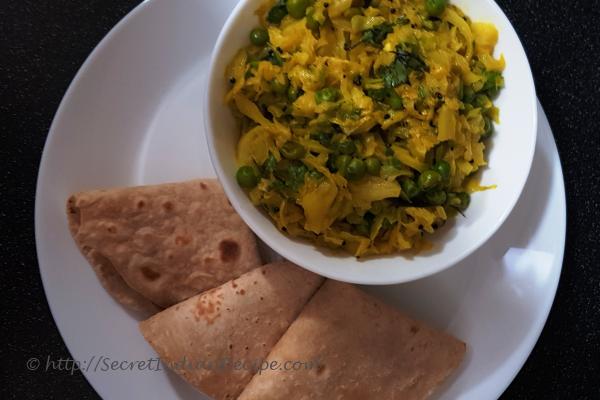 Ingredients:
Cabbage: 1 chopped
Green Chilies: 3
Curry Leaves
Mustard Seeds 1/2 Tsp
Salt to taste
Turmeric 1 Tsp
Green Peas 1/2 Cup
Directions:
Heat Oil , add mustard seeds and allow them to splutter
Add green chilies, curry leaves give it a quick stir
Ass turmeric, stir and add green peas
Stir for 2 mins, and add in the chopped cabbage
add salt and stir well
Cook until the cabbage softens
Add coriander and stir well
Cook until all water evaporates and cabbage is thoroughly cooked
Serve hot
Footnotes:
Increase the quantity of green chilies if you can like it hot!