Savory Layered Nimki | Sankhe
Inspired by Nisha Madhulika's recipe, this is my version of a namkeen nimki recipe. I made this snack during Diwali but din't get the time to upload. So here it is, crispy, savory and full of layers my Layered Nimki recipe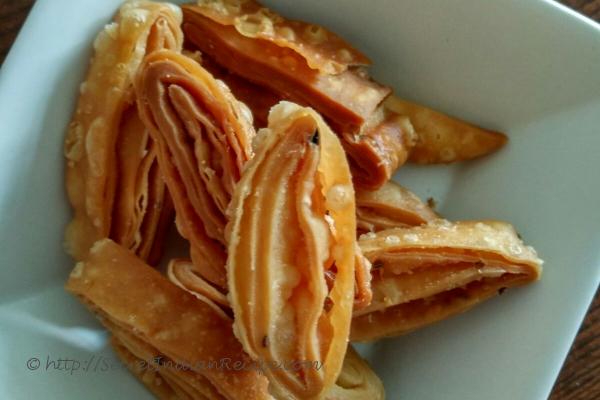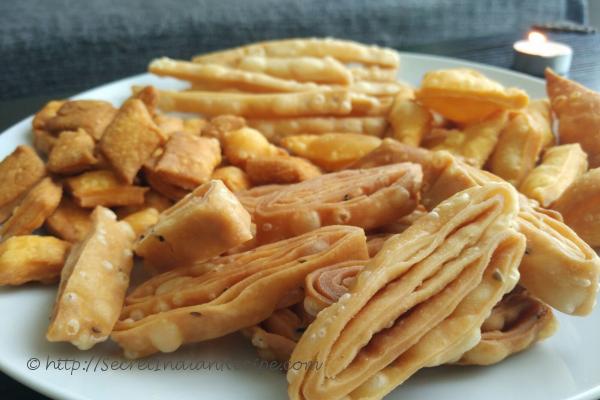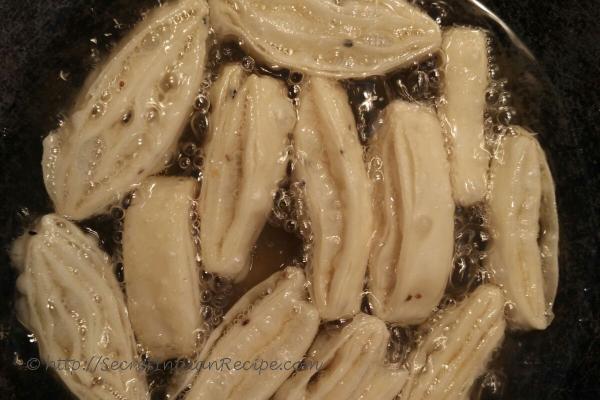 Ingredients:
Maida / Refined Flour : 4 Cups+ 1/2 cup
Oil 1/2 Cup
Oil for deep frying
Salt 1 Tsp
Carom seeds 1tsp
Water for kneading (Water at Room temperature)
Directions:
In a bowl sieve the 4 cups of plain flour (maida) to get rid of any lumps.
Add salt and 1/2 cup oil and mix well. Use your hands/fingers to nicely mix everything
Now slowly add water and start kneading into a stiff dough
The dough should be stiffer than the consistency of roti dough Let it rest for 30 mins.
After 30mins, divide the dough into 5 parts.
Sprinkle dry flour on a flat surface and roll out the first part of the dough on a flat surface
Roll it out to a slightly thicker than a roti.
Now brush 1 tbsp oil on top and dust with dry flour. Fold left & right (both) sides of the dough one by one to the center.
Brush oil on top of that and fold the top and bottom ends on to the center.
Now roll out the dough again and repeat this process.
Finally cut the the last flattened section into strips and keep them aside
Repeat this process with remaining 4 sections
Heat oil for deep frying. On low heat fry the cut sections and cook till they fluff up, become crispy and nice golden brown. One batch should usually take 6-7 mins on low heat
Once cooked, remove from hear and drain on a paper towel. Let the oil drain out and allow the layered nimki to cool down
Once cool, you can serve/ store them in air tight containers
Footnotes:
You can also refer to the this video https://www.youtube.com/watch?v=06kvVjthd7I to see how to exactly fold the layered nimki