Meetha Chawal
A simple sweet recipe made with rice and jaggery. I made this recipe of meethe chawal for Holi... Try and let me know how you like it.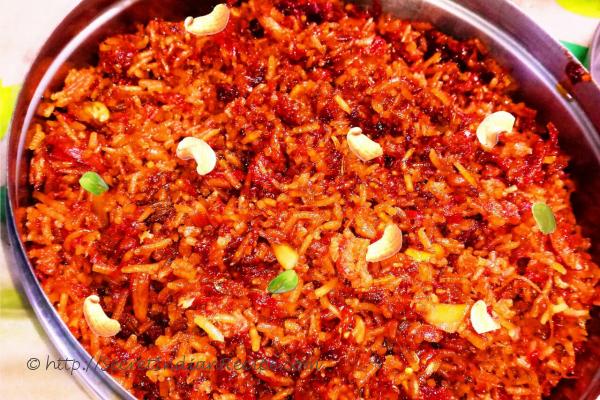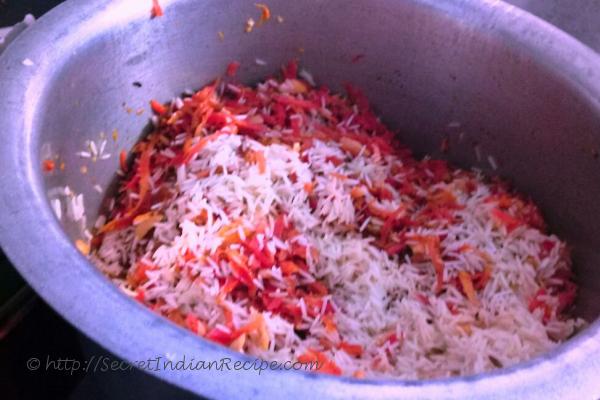 Ingredients:
Rice 2¼ Cups
Jaggery 3 Cups
Milk ½ Cup
Ghee 8 Tablespoons
Dry Fruits 1¼ Cups
Carrot (Grated) 3 Cups
Coconut ½ Cup
Green Cardamom 6
Saunf 2 Tablespoon
Nutmeg 1 Pinch
Directions:
Wash rice properly and soak it for one hour.
Soak Jaggery in 2 Cups of warm water
Chop Dry fruits, Grate Carrots, Grate Coconut
Warm 4 Tablespoon of ghee. Crush green cardamom and add it to ghee. Add saunf to this and mix thoroughly.
Put nutmeg powder and dry fruits in it and fry for sometime. Add coconut and carrot and fry for two minutes.
Add soaked rice (without water) and mix with light hand so that rice does not break.
Cover the pot and cook on slow heat for 10 minutes so that rice is semi cooked. Add jaggery syrup and two tablespoons of ghee.
Cover the pot and cook on for slow heat for 15 minutes. Switch off the gas. Leave the pot on the gas stove for sometime. Your Meetha Chawal is ready.
Garnish with dry fruits.
Note: If you like less sweet, you can reduce the quantity of jaggery