Holi Special: Moong Dal Halwa
Moong dal halwa is a very famous north indian sweet dish. This is made on celebrations or festivals like holi, diwali etc . Any marriage Function is incomplete without this beautiful dish. If u go through the recipe it is nothing but moong dal or split green gram paste is sauteed in ghee on low heat till it goes frangnant and golden brown. It is a lengthy and bit hard dish but the out come is really tasty and worth trying. Moong dal is packed with protein and low carb. It is a good and filling option for those who wants to go for diet. It is also a good source of protein for vegetarian. It is a high source of manganese, potassium, magnesium, copper etc etc.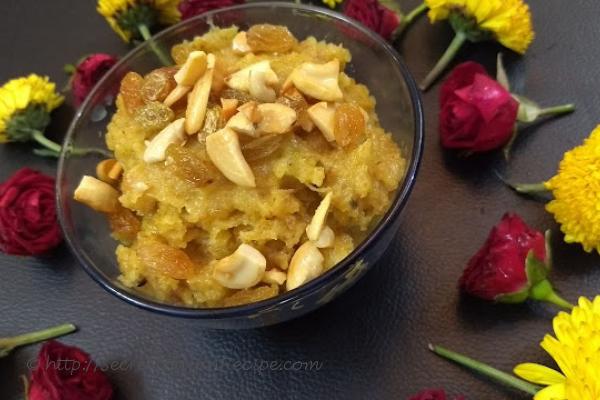 Ingredients:
Moong Dal- 1cup
Ghee- 1cup
Besan- 1tbsp
Suji- 1tbsp
Water- 1cup
Sugar- 1cup
Salt- 1/4tsp
Saffron- a pinch
Green Cardamom Powder- 1/2tsp
Chopped Pistachio- 1/4cup
Chopped Cashew- 1/4cup
Raisins- 1/4cup
Ghee- 1tbsp
Directions:
Clean and wash moong dal properly. Now add water to it. Soak the dal for 4 to 5 hours. The dal will swell and will be almost 1 1/4cup of moong dal.
Drain the soaked dal and grind it to a smooth paste and keep aside. I suggest to use nonstick kadai for this halwa as moong dal is prone to stick to the pan.
Heat ghee in a non stick kadai. Add suji (rava) and besan to it. Saute it properly without any lumps. Then add moong dal paste to it.
It may look a lots of ghee in the pan initially. But while Cooking dal will soak all the ghee. Now your hand will do the job. It has to be stired properly and constantly.
After some time of Cooking moong dal will be grainy. And again after some Cooking it will forthy. This is a crucial stage. One can't leave dal for a min in this stage. By this time it will get a beautiful brown colour and raw smell of dal goes.
In the mean time add water, salt and sugar to another pan. Let it boil and sugar melt in. Now add saffron and green cardamom powder and boil for a min or two. Switch off the gas and keep aside for further use.
Heat ghee another kadai and fry the dry fruits and keep aside..
Now add the sugar syrup to the forthy moong dal. Cook the mixture up to dry. Add fried dry fruits to it and mix properly. This will be a beautiful, flavourful and light brown halwa.
Enjoy the heavenly halwa hot