Mother's Day Special Recipe Contest
Winners of the Mothers Day Recipe Contest are:
Click Here to view Winning Recipe
Click Here to view Runner-Up Recipe
Recipe Entries for Contest is now CLOSED! Please check out our upcoming event HERE
Contest Details
When it comes to things we love about our mom, "Cooking" invariably tops the list. This year on Mother's day, make your mom feel special, share her unique, original Indian recipe and WIN Rs 5000 in cash / flipkart shopping vouchers!
Three easy steps to participate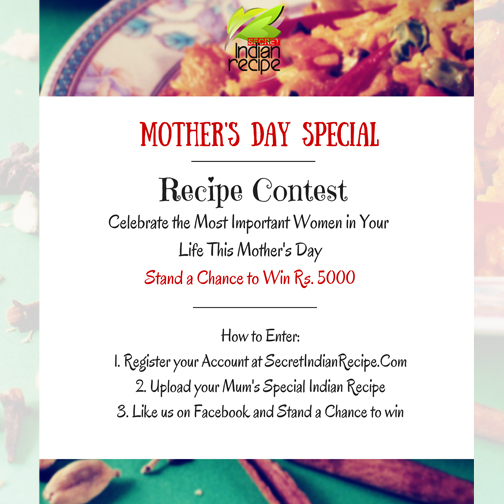 #MothersDaySpecialRecipe Contest : Terms & Conditions
The Contest will be open during the period from 4th April to 4th May 2015. Entries after 4th May 2015 will not be valid Winner will be announced on 10th May – Mother's Day
All entrants must have an Indian Bank account
Recipes must have

Title
Introduction
Atleast one clear photo
Step-wise Directions

Winner will be announced via SecretIndianRecipe's Facebook page and website
All Recipes Must be Original and not from a third party site or your own
Winner can claim prize of Rs 5000 in cash or Flipkart shopping vouchers worth Rs. 5000
Entrants agree to give permission to SecretIndianRecipe to use their Recipe, photo(s), & name for contest promotional purpose  
By submitting a recipe, contestants accept these rules and agree to be bound by the results of the prize selection
SecretIndianRecipe reserves the right to remove recipes, photos or comments it deems inappropriate, and to disqualify contestant(s) who post such content. SecretIndianRecipe also reserves the right to refuse submissions for any reason.
When promoting your recipe submission on Facebook, Twitter , G+ or Pinterest, participants are encouraged to use the official contest hashtag: #MothersDaySpecialRecipe
Participants are encouraged to upload their profile pictures while registering their account
Meet Our Judges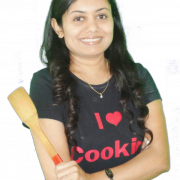 ​Bhavana Patel 
Bhavana Patel is a home co​ok, food writer and a vegeterian cuisine expert. She is motivated by the belief that vegeterian cooking & food can be exciting too.
Bhavna shares amazing recipe videos, cooking tips & food photographs on her food website bhavnaskitchen.com
Follow her popular youtube channel :  youtube.com/user/SuperVeggieDelight
​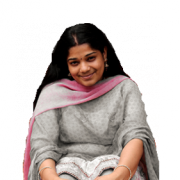 Aarthi Satheesh 
Aarthi Satheesh is a successful and popular food blogger. She quit her secure job to pursue her passion for homecooking and started Yummytummyaarthi.com. In no time the blogs popularity reached new heights. Today her website gets over 3 million views a month and her fanbase on social media is ever increasing. We are honored to have her on our panel of judges
Follow YummyTummyAarthi on facebook : facebook.com/yummytummyaarthi
A Big Thank you To Our Contest Partners & Supporters!