তেল পটল( Parwal/parval In Mustard Oil)
A very unique Bengali Recipe prepared with Pointed gourd(পটল)as a side dish for lunch with plain white rice.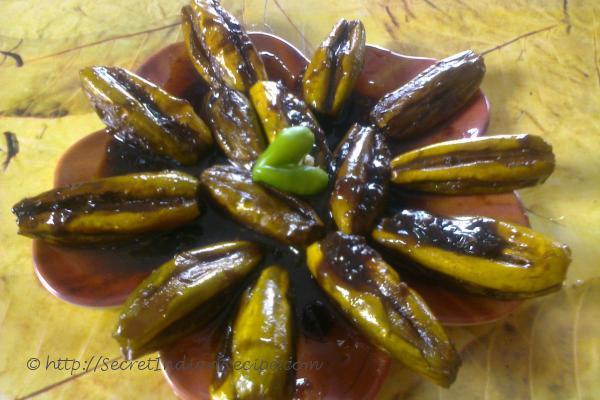 Ingredients:
পটল(Parval)- 500g
Onion paste- 4tablesp
Ginger paste- 2tablesp
Garlic- 2tablesp
Greenchilli- 2 tablesp
Mustard oil- 100ml
Garam masala powder- 1tsp
Turmeric powder- 1/2tsp
Salt & sugar- To taste
Directions:
First peel off the skins of the gourd,make a deep scratch on the body and fry the whole gourd in oil and keep aside.
In the left over oil, add onion+garlic+ginger+chilli paste and cook for sometime.
Then add Salt & sugar, turmeric and the fried gourds(পটল) and mix well.
When the masala gets stick to the gourd, add garam masala.
Serve hot with plain rice.
Footnotes:
Scratch on the body of the gourd is made in order to let the masalas enters inside it.