মাছের মাথার মুড়িঘন্ট( Fish Murighonto)
A traditional Bengali dish descending from our great grandma's.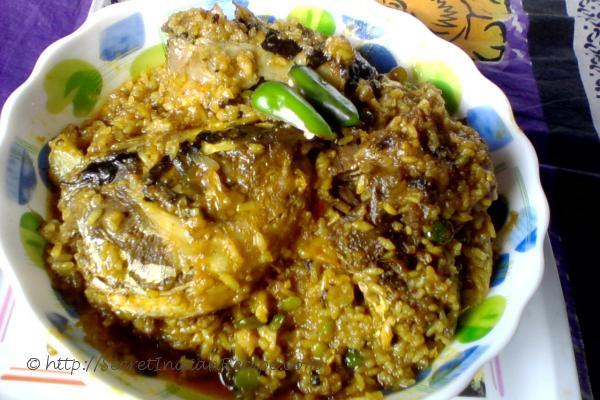 Ingredients:
Rohu fish Head- 2 big
Gobindo Bhog rice-200g
Chopped onion- 1pcs
Ginger paste- 3tsp
Cumin paste- 2tsp
Garam Masala- 2tsp
Ghee- 5tsp
Mustard Oil- 75ml
Salt & Sugar- To taste
Turmeric- 1tsp
Red Chilli Powder- 1tsp
Cashew-Resins-- To Garnish
Directions:
Heat the oil and fry the fish head very nicely.
Then, add chopped onion, ginger paste, cumin paste, turmeric, chilli powder and salt and fry well.
Now,soak the rice in water for an hour.
Then, add the soaked rice in the fried mixture and mix well and cook for sometime.
Now, add the sugar and mix properly.
Add some water and put a lid on the pan.
When everything tenders, add ghee- garam masala and take it off and serve hot by garnishing with Cashew-resins.