Pork Belly Recipe From North East India
#IndianDietRecipe
This is a pure spicy pork belly recipe which belong to North East part of India. And this goes well with sticky/jasmine rice.
Well, it is my crazy imagination/creativity which I have tried on pork belly and luckily it turned out to be delicious. Someone who is crazy for non veg, he can't get rid of this dish. Even someone can try with mutton/Lamb/Chicken pieces as well, if pork is not their choice.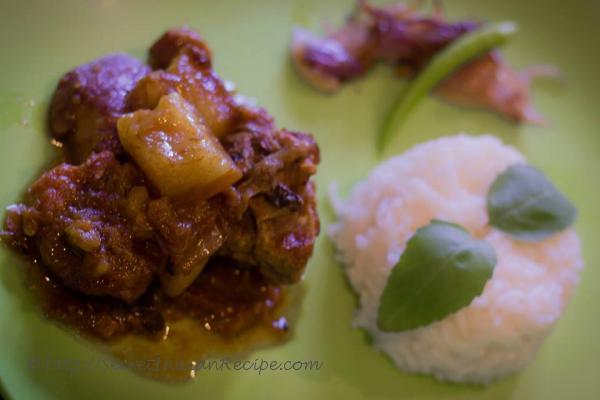 Ingredients:
Bay Leaves-2
Ginger-Garlic paste (home made)-2 and 1/2 Tbsp
Green chilli paste
5 slit Green Chillis
1 tbsp Red Chilli Paste
1 tbsp Cumin Powder
2 medium sized Onion-diced as ring shape
4 Onions-4 pieces of each
4 Cloves of Garlic
4 Baby Potato-cut in round shaped and as per the attached picture
Turmeric powder
Salt-as per taste
Sugar-as per taste
1/2 inch Cinnamon
1/2 tsp Cardamom powder
Ghee-1 Tbsp
Mustard Oil-Cooking Oil
500 grams Pork Belly
1/2 cup Sour curd
Directions:
Marination: Wash 500 gm pork belly and put ginger garlic paste, 2 bay leaves, salt, 1 tbsp red chilli paste and 2 tbsp curd. Now mix all these ingredients with pork and put it in Refrigerator for 1 hour.
Meanwhile, mix baby potato (round shaped halves) with salt and 2-3 pinch of turmeric.
Heat a pan and put mustard oil, fry potato till turn brown, after it turned brown, remove from pan and keep those aside.
Now fry onion rings into that pan and stir fry until turn brown and then remove from pan and keep those aside as well.
Now again put 2-3 Tbsp mustard oil into that hot pan, Let oil be heated. Put 2 medium sticks of cinnamon and 2 bay leaves and 3 whole red chillies, Saute those for 1 min and then put slices of onion and fry and then put marinated chicken into that pan. Mix everything very well. Put 2 pinch of turmeric powder, salt, green chilli paste, red chilli paste, little bit sugar (as per taste) and spitted green chillies.
Saute and mix them very well. increase the flame and fry till pork and spices turn red. There should not be any water left after frying.
Now add water as per curry amount you want. Add fried potatoes.Cover the pan with lid and cook for 15 minutes on low flame.
Open the lid and see that thick red curry. Now turn off gas and add 1 tbsp Ghee and let the pork simmer with closed Lid for 20 mins.
Now after 15 mins, add those fried onion rings into that dish and mix well. Serve with hot sticky/jasmine rice.
Other Indian Recipes that you may Like !