Rhomesecret Recipe : Prawns & Raw Mango Curry In Coconut Milk (konjum Paccha Maangayum Thenga Aracha Curry)
This recipe was first made at Renaissance Mumbai on 29th May during RHomeSecrets event
This dish is a beautiful medley of flavours. The raw mango lends it's tang to the prawns and the gravy is rich with subtle spices.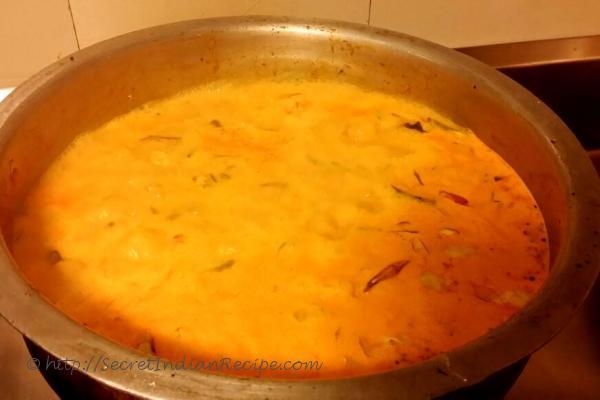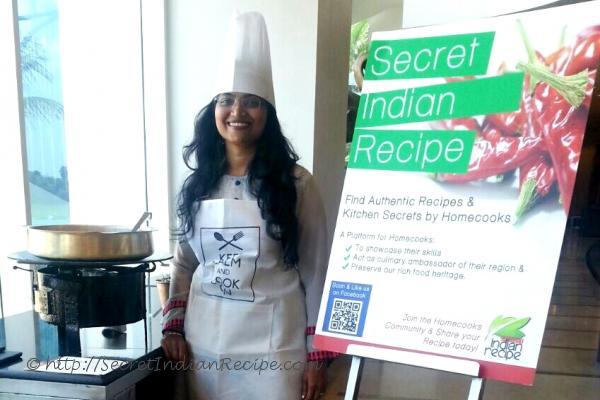 Ingredients:
Prawns, cleaned and deveined - 1 kg
Grated coconut - 1 cup
Chopped ginger -1+1/2"
Chopped garlic - 6-8
Green chillies - 4-5
Kashmiri chilli powder - 2 Tbsp
Turmeric powder - 1tsp
2 raw tangy mangoes deseeded and diced
Curry leaves-2 sprigs
Mustard seeds - 1/2 tsp
Fenugreek seeds - 1/2 tsp
Shallots -6-8
Coconut oil - 3 tbsp
Salt to taste
Directions:
Devein and clean the prawns.
Peel and dice the mangoes.
Make a smooth paste of the grated coconut, 2 cloves of garlic, half of the ginger, 2 of the the green chillies, chilli powder and turmeric powder.
In a kadai, heat 2 tablespoons of coconut oil and temperature it with mustard seeds.
After the mustard seeds crackle,add the fenugreek seeds.
Immediately add the shallots and the remaining ginger and garlic, followed by the curry leaves. Stir fry till it is all slightly caramelised.
Add the mangoes and salt. Stir it well and let it cook for 10 minutes at a low flame or till the mangoes are soft.
Now add the prawns and stir well on a high flame.
As the prawns begin to change colour, add the coconut gravy. Add a little water too to adjust the consistency of the gravy.
On a reduced flame, allow this to cook well. Stir this in between.
The prawns take very less time to cook. Once it is done, pour a tbsp of coconut oil and garnish with a few curry leaves.
Serve hot with rice.
Footnotes:
After the dish is cooked, 1/4 cup coconut milk can be added to the gravy and just stirred in. This makes the gravy more creamy.
Other Indian Recipes that you may Like !