Aaliv Ladoo ( Garden Cress Seeds Ladoo)
This is a typical marathi recipe especially made for pregnant women. These ladoos are good source of iron and are quite tasty.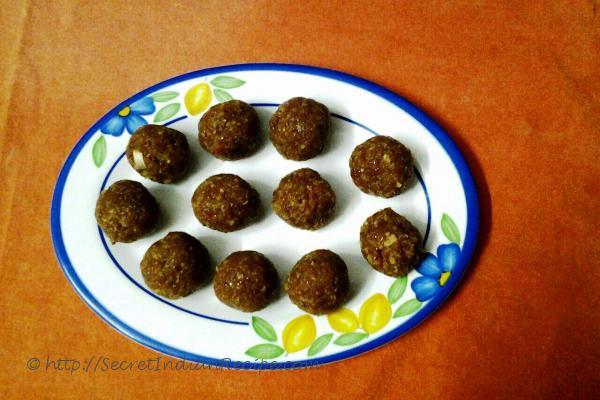 Ingredients:
Aaliv ( Garden cress seeds) 1/2 cup
Freshly desiccated coconut 4 cups
Jagerry 2 cup
Green Cardamom powder 1 teaspoon
Coconut water or Milk - 1 and 1/2 cup
Directions:
Soak Aaliv in 1 and 1/2 cup coconut water or in milk for 2 hours.
Heat a pan and mix presoaked aaliv and jagerry with freshly desiccated coconut in the pan. Stir over medium flame.
Keep on mixing as this mixture could easily burn.
When the mixture is semi dry and easy to bind then add cardamom powder and turn off the heat.
Once completely cooled then make ladoos .
Footnotes:
This ladoo can be kept in the fridge for 10 days. This recipe should make 20 small size ladoos.