Aaloo Suva Bhaji (potatoes And Dill Curry)
Dill leaves are quite pungent in flavour but they make an amazing curry when paired with potatoes. I love cooking them with fritters and beans as well. Dill is called Suva in Marathi. My mother often cooked this curry to show us how her hostel days were. She says this was the most common curry served to them with rotis for breakfast and sometimes with an addition of dal for lunch too. She made it a little different for us she claimed so that we could have it unlike her hostel did. But maybe because we were fed this from childhood, I love dill and don't mind having it any day. My hubby was apprehensive of this curry in the beginning but seems like he got used to this too.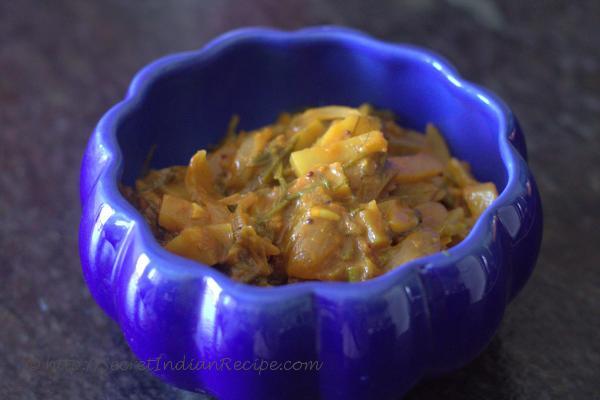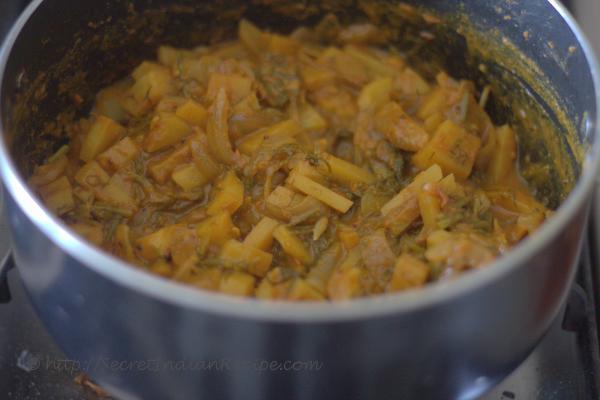 Ingredients:
Potatoes- 5
Dill leaves- 2 small bunches
Onion- 1
Ginger-garlic paste- 2 tsp
Tomatoes- 2
Green Chilies-2
Turmeric powder- 1/2 tsp
Chili powder- 1 tsp
Salt- to taste
Oil- 2 tsp
Curry leaves- 5-6
Directions:
Peel and cubes the potatoes. Wash and chop the dill leaves roughly.
Heat oil in a pan and saute the curry leaves and chopped onions. When the onions brown,add the minced ginger- garlic paste and green chilies.
Add the turmeric powder and chili powder after 2 minutes and saute for 2-3 minutes.
Add the chopped tomatoes and salt now and saute till the tomatoes wilt.
Add the cubes potatoes to this masala and cover the potatoes with a lid so that it cooks under the steam. Add 1/4 cup water, if the potatoes take more than 10 minutes to cook.
Once the potatoes have cooked, add the chopped dill and cover them with the lid and continue to cook for 5 - 6 minutes.
Keep stirring in between, during intervals. Take the curry off the flame after 6-8 minutes of adding the dill leaves (and covering and cooking them)
Serve with rotis or rice.