Aam Bhapa Doi (steamed Yogurt)
A traditional bengali sweet. Bhapa doi always reminds me of my home town and my childhood. My mother use to make this sweet often during festivals and specially in durga puja.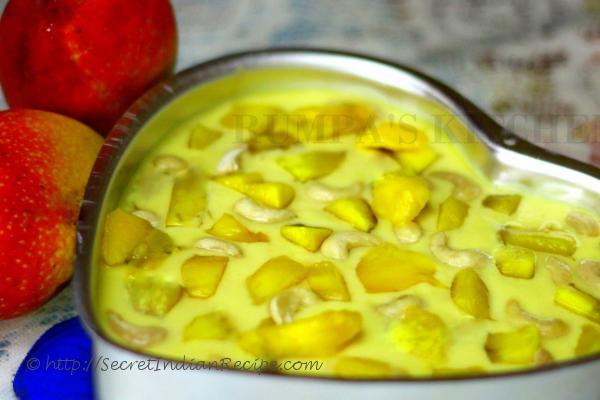 Ingredients:
Mango pulp 1 cup
Chopped mango cubes of one small mango
Condensed milk 400 grams
Thick yogurt whisked 1 and 1/2 cup
cashew nuts 15-20 pcs
Directions:
Heat sufficient water in a pressure cooker. Take mango pulp in a deep stainless steel pan. Add condensed milk and yogurt and whisk together till well blended.
Add cashew nuts and mix. Put some mango cubes from the top. Cover the pan with cling wrap and seal it all around.
Place the pan in the cooker. Put the lid on and steam the cooker, without putting the weight, for about 20 minutes.
Take it out of the cooker and set aside to cool to room temperature. Chill in the refrigerator before cutting into smaller pieces and serving.