Aam Da Achaar ( Mango Pickle)
Mangoes are summer fruit. This is a very famous pickle in South Asia and India. Its a spicy dish or condiment that can be enjoyed with almost any food. There are countless versions of mango pickle in India with each region having its own host of recipies. In mid summer when I went to my aunt's house, I saw her drying mangoes in sun for pickles and immediately asked the mouth watering recipe.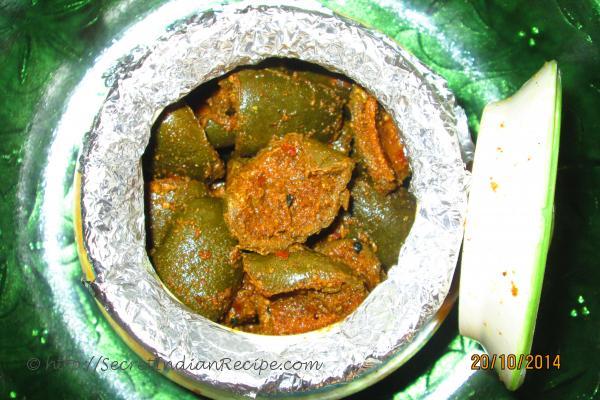 Ingredients:
Raw mangoes - 1.5 kg
Salt - 150 gm
Red chilli powder - 50 gms
Turmeric powder - 25 gms
Fennel( dry roast lightly) - 50 gms
Fenugreek seeds - 50 gms
Onion seeds - 30 gms
Mustard oil - 2 cups
Directions:
Wash mangoes. Wipe with a clean cloth. Cut into 1" pieces.
Heat 2 cups oil in a deep pan. Remove from fire and transfer to a large pan.
Add salt, red chilli powder, turmeric powder, fennel, fenugreek seeds and onion seeds to the oil.
Add the mango slices to the masala oil. Mix well.
Fill into a jar. Keep jar in the sun, shaking it once daily.
To preserve the pickle for a longer time, heat about 1 more cup oil and cool it.
Pour oil in the jar of pickle to cover the mango slices.