Aam Ka Pudding (mango Custard Pudding)
Mango Custard Pudding is one of my favorite. whenever mango season comes, I prepare this pudding.The alternating flavours in every spoon is awesome.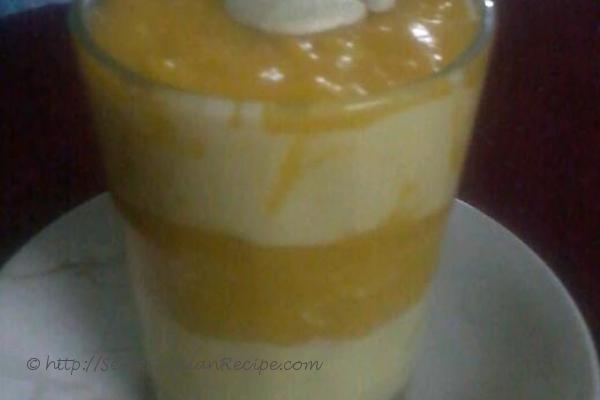 Ingredients:
Milk-1 cup
Custard powder-1 tbsp
Sugar-3 tsp (or according to sweetness)
Thick mango pulp-1/2 cup
Cashew-1 tsp for garnishing (optional)
Directions:
In a small bowl add the custard powder to 1/4 cup of milk and dissolve till the custard powder combines with milk into a smooth pasty liquid without any lumps. Keep aside.[This step should be done with out keeping on stove]
Heat the remaining milk in a sauce pan add sugar to it. when it reaches boiling stage, add custard mixture. Keeping on low flame, heat the custard milk. Stir slowly, well and continuously.
Stir well so that lumps form.
When the mixture starts bubbling and looks thickened(if you pour, it should not be runny) switch off. Allow it to cool down completely.
Now take a glass tummler add 1 tbsp prepared custard mixture alternatively add mango pulp continue this till the glass end.
Add cashews on the top & refrigerate for at least one hour & serve chill.
Footnotes:
You can use fresh cream also, take half cup fresh cream & half cup milk
Adjust sugar according to the sweetness of the mangoes and to your taste.
The toppings is as per your choice.