Aam Paapdi Sandesh
Mangoes is my family's favorite fruit and cooking fusion food is my hobby. So I make this very innovative dish to surprise the taste buds of first time eaters. This is one of my favorite sweet dish too. It is a good news for all diabetic patients that this recipe is suitable for you too, so enjoy every bite of my innovative recipe.
#MyMangoRecipe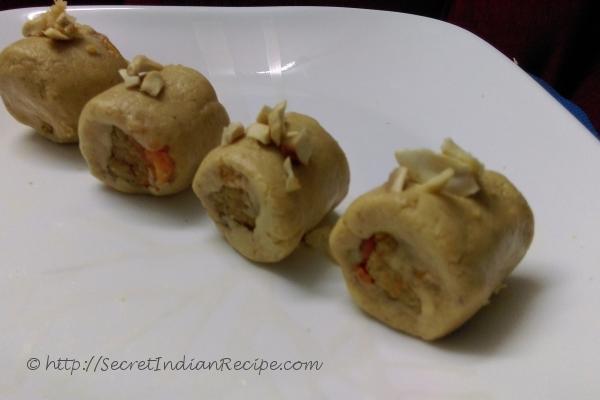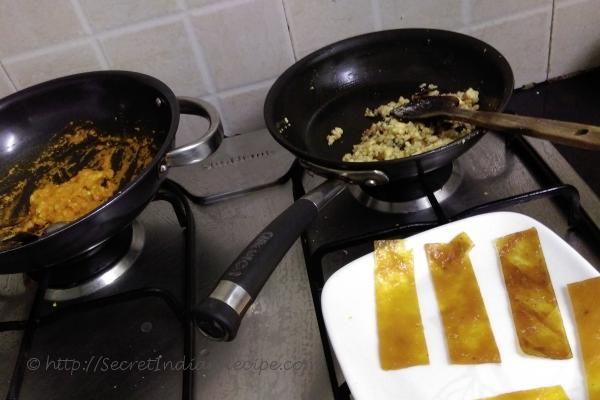 Ingredients:
Aam papad (avialable in market)- 5 strips
Mango pulp- ½ cup
Channa ( homemade cottage cheese)- ½ cup
Khoya (condensed milk)- ¼ cup
Sugar free- 8 tsp
Milk powder- 2tbsp
Cardamom Powder- ½ tsp
Kaju Paste- 2 tbsp
Kajur paste- 2tbsp
Almond paste- 2 tbsp
Directions:
For first layer: Heat a pan add mango pulp in it, add sugar free 2 tsp then mix continuously till the mixture is thick like jam. Keep it aside and cool
For second layer:- Take another pan heat and pour one by one all the ingredients i.e sugarfree 6 tsp, khoya, milk powder, kaju, almond, kajur paste simmer it atleast for 7 to 8 minutes. Stir it continuously and cook it over low flame until mixture turns a little dry but it should be little moist, it will take around 7 to 8 minutes. Do not cook it for longer time or over medium/ high flame to prevent chenna from turning crumbly.
Sprinkle the cardamom powder and mix. Turn off the flame and let it cool for few minutes. When it is still warmth knead well until smooth.
Divide mixture into, first 6 small portion,
For assembling:- Ready the aam papad slices in a plate and then spread the aam raas over aam papad then stuff the chenna mixture ball (prepared in the second layer) and then roll it.
Again divide the left over chenna mixture into 6 portions and roll over the aam papad rolls prepared above. Decorate with crushed kaju.