Aam Pankhuri#mymangorecipe
Mango, also called as "king of fruits" is one of the nutritionally rich fruit with unique flavor, fragrance and taste. So it's the time to welcome the king of all fruits. Mangoes are the one that makes us forgot all other fruits with its sweet tangy taste.So I decided to make sweet with this fruit in flower shape. I tried making these AAm pankhuri #MyMangoRecipe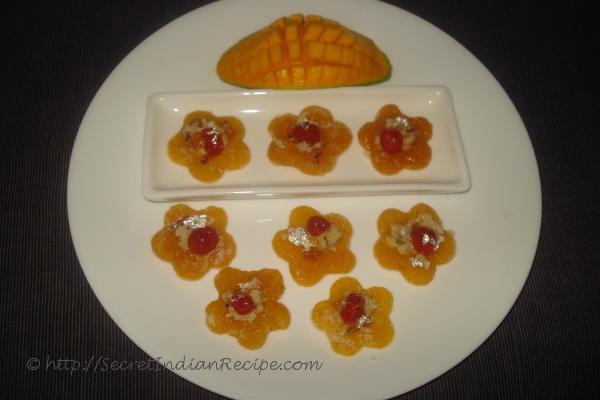 Ingredients:
2cups sweet ripe mango puree,
2tbsps powdered sugar
1/2tsp green cardamom powder,
few strands of saffron
1cup powdered sugar for coating
For topping-(2tbsps thick sugar syrup
1/4cup chopped nuts(cashewnuts,almonds)
2tbsps tutti frutti,)
Glazed cherries and silverwirk to decorate
Directions:
For topping –Cook all the topping ingredients till dry and keep aside.(1/4cup chopped nuts(cashewnuts,almonds) 2tbsps tutti frutti,)
for pankhuri-Blend mango puree, powdered sugar, green cardamom powder and few strands of saffron in mixer till smooth..
Transfer the pulp in a pan and cook till it is thick and completely dry.
Cool and keep in refrigerator for 2 hours.
Keep the mixture on greased polythene sheet and roll out like thick bread.
cut into flower shape from flower shaped cutter and top with some topping prepared and press gently.
Coat the mango flowers with powdered sugar .
Decorate with Glazed cherries and silverwirk.
Footnotes:
While rolling mango mixture, dust mango mixture with powdered sugar to stop sticking .
Keep AAm pankhuri sweet in refrigerator in open mouth vessel to stop sticking.