Aamer Chutney
Chutneys are a quintessential part of a Bengali meal. And depending on the season and the availability of various fruits and vegetables they vary.This is one of the easiest ones Maa used to make in the hot summers......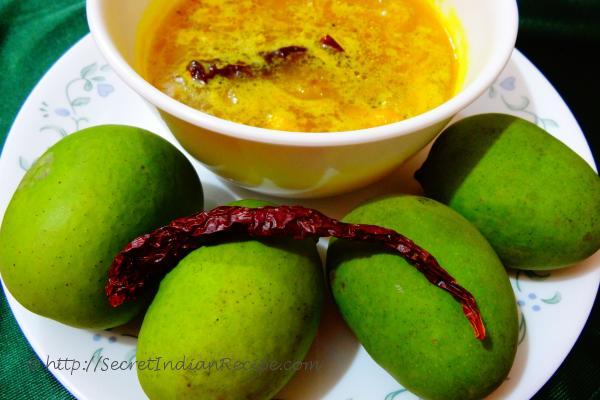 Ingredients:
Sour Mangoes - 2-3
Paanch Phoron - 1/2 tablespoon
Dry Red Chillies - 1 broken into two
Sugar/Jaggery as per taste
Mustard Oil - 1 tablespoon
Salt - a pinch
Turmeric - a pinch
1 Glass Water ( adjust consistency as per requirement)
Directions:
Peel and chop the raw mangoes.
Put oil in a kadhai and add 1/2 tsp of the panch phoron and the dry red chilies.
Then add the chopped mangoes and stir it for 4-5 minutes on medium heat and add a pinch of salt and turmeric.
Add water and let it come to a boil. Then add sugar and jaggery and let the chutney simmer for 10-15 minutes to attain the desired consistency.
Footnotes:
I use more jaggery and only 2-3 tsp of sugar to sweeten my chutney.