Aamla Ka Achaar (indian Gooseberry Pickle)
We make this pickle on every ' Aamla Sashti', a festival observed in Uttarpradesh and Bihar in the month of October. All the Women from neighbourhood gather under an Ammla tree, cook ' Puri', ' Halwa' and this particular Aamla achaar and worship the tree. The young generation may find this ritual of worshipping the Aamla tree very absurd but if you ponder over it, It is actually a good way to unite people.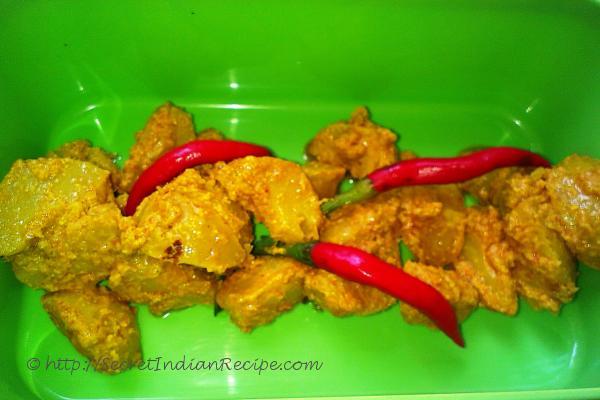 Ingredients:
Aamla ( Gooseberries) – 7-8 pieces
Green chillies – 4-5 chillies
Yellow Mustard seeds – 1 tablespoon
Mustard oil – 3 tablespoon
Salt – as per your taste
Directions:
Wash the aamla twice in clean water and then put it in a pan. Pour required water and put it on the stove….Use Steel vessel and avoid aluminium as the citric acid present in aamla may leave stains in aluminum vessel.
Boil the aamla for about 15 mintues or till it is done……Take a toothpick and pierce it through the aamla to check if it is done. Drain the water and leave it aside.
In a grinder put mustard seeds along with green chillies and 3-4 tablespoon of water and grind it into a smooth paste. Slightly roast the mustard seeds before grinding is a good option.
Now once the aamla is cooled, take the seeds out and keep the pulp in a bowl.
Heat two tablespoon of mustard oil in a pan and add the boiled ammla pieces. Sauté for few seconds and then add the mustard and green chilli paste along with salt. Mix well and put a lid on. Cook on low heat for 2-3 mintues. Stir in between. Once the raw smell of the mustard is gone, switch off the gas. Pour a tablespoon of raw Mustard oil and mix. Serve with Puri or with your lunch.
Footnotes:
You can add few drops of white Vinegar to store it for a week in refrigerator.