Aamra Fish Curry (raw Mango & Coconut Flavored Fish Curry)
Being a Chef I have always loved challenges which came to my way. I remember each and every words of my teacher who said that we hoteliers should be ready for everything because problems won't come knocking on the door. As a chef I have always felt that we lead a strong life as because balancing professional and personal life becomes too difficult for us. For better opportunities we always have to be far away from our families, friends and loved ones.
Such were the days for me when I was in Guwahati. I use to miss my girlfriend like anything. But I knew days spent at Guwahati will be deciding my future with her. I always use to experiment my hands in something new fusing one with another. My would be father-in-law was a big foodie and he loves fish like anything as told by my girlfriend. Contrary to that I was not a big fan of fish. This made me do anything from trying fish to tasting it myself. We chef are also human being and we too have our own taste buds. But my love for her made me strong as a chef. Though we are not together anymore but my effort to impress him did not went in vain. I used it many a times after that and even got applauds from my seniors.
I fused two regions of our country during my experiments and came up with a dish. Goanese fish curry now very popular and Tok machher jhal famous in Bengali cuisine. Goan fish curry is flavored with kokum and coconut milk where as Tok machher jhal with raw mango and black cumin seeds known as kalonji. I mixed both to get Aamra fish curry.
Here I have used Catla one of the local fresh water fish flavored with raw mango and coconut.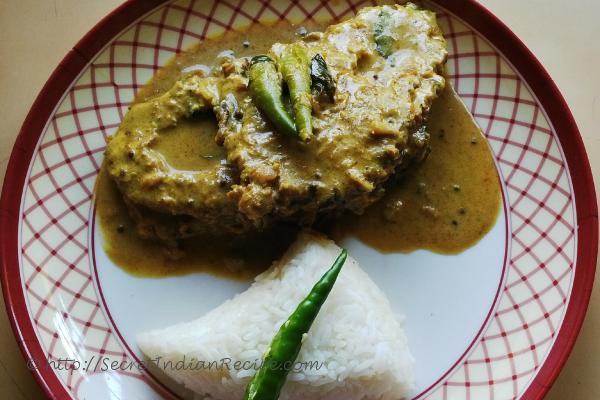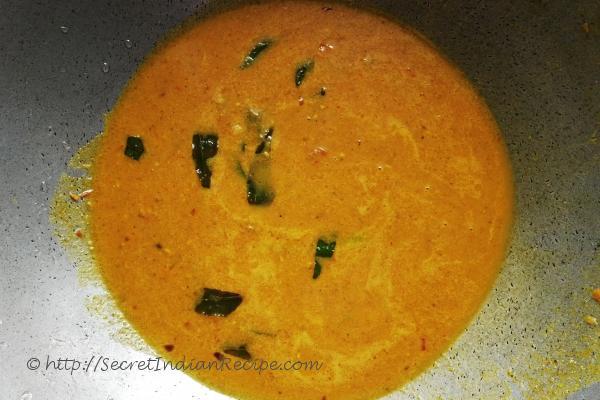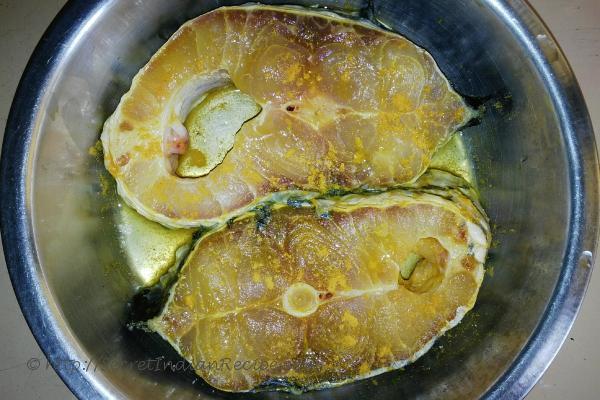 Ingredients:
Catla Fish- 300gm
Oil- 50ml
Chopped Onion- 1
Chopped Tomatoes- 1
Chopped Raw Mango- 50gm
Green Chilli slits- 2
Coconut milk- 75ml
Curry leaves- 1 sprig
Salt- To taste
Water-250ml
For Paste-
Coconut- 50 gm
Coriander seeds-1 and 1/2tbsp
Cumin seeds- 1tbsp
Whole Red kashmiri chilli- 2
Tarmarind pulp- 20 gm
Garlic- 4
Turmeric powder- 1/2tbsp
Peppercorn- 1tbsp
Directions:
Marinate the fish with salt and little turmeric powder.
Mix all the ingredient required for the paste together and soak it for around 10 minutes. Make a fine paste of it and keep it aside.
Now heat oil in kadai, add onions and fry them until translucent over a medium heat.
Add chopped tomatoes, raw mango and green chilli. Stir fry it for 2-3 minutes.
Now add the paste and cook it over slow heat for 5 minutes without getting colored followed by water.
Add curry leaves, marinated fish and reduce the curry by half until the Fish is cooked properly.
Add coconut milk and bring the curry to a boil.Check the seasoning.
Serve hot with boiled rice.
Footnotes:
Different fish can be used as per the availability but care needs to be taken while cooking it as they are very soft.
Avoid stirring once the fish is added or else the pieces will break.
Coconut milk can be substituted with cream as well but while adding one must take care that it doesn't curdle due to the tarmarind pulp.
Other Indian Recipes that you may Like !