Aamras (mango Pudding)
I am not sure how one can define aamras. It is not mere mango puree but it is also mango puree in some sense with lots of spices and technically aamras means- mango pulp. I remember having aamras with pooris at my neighbour's house when I was a kid. There was never any dearth for alphonso mangoes back in Kuwait and some of the best alphonsos I tasted came from Pakistan. Yes it is an inexplicable feeling when a Gujarati made aamras from Pakistani mangoes for her Keralite neighbour. I made them with Bagnepalli mangoes a special kind of mangoes found in the south of India that hails from Andhra Pradesh. The mango season has just begun and choosing the right mango is so difficult at the moment with the soaring prices. I was giving my daughter mangoes the first time and she loved it. She did not have them with pooris but she had them chilled as a dessert. If you don't mind having these with pooris, try them with the fried Indian flat breads. Now regarding variations- different regions add cardamom, dry ginger and saffron to the aamras, I have added a bit of all the three. Dry ginger counters the heat produced by mangoes in one's body and cardamom lends it a flavour that covers up the ginger flavour. I added saffron hoping to get some colour in the aamras but that did not happen, instead it gave a distinct saffron flavour to the aamras. You can choose one of these flavours or all the three just like I did.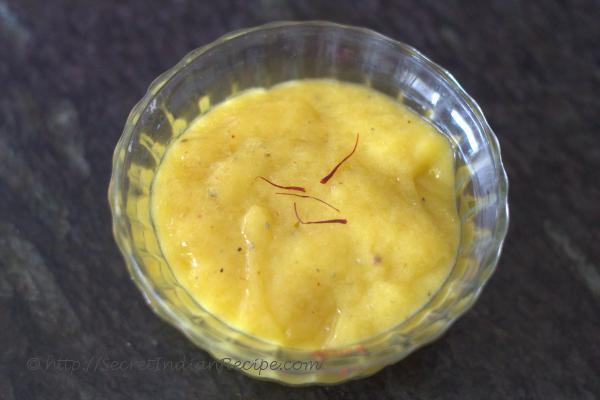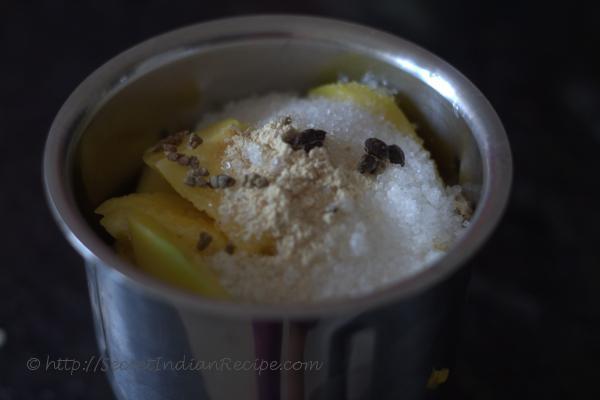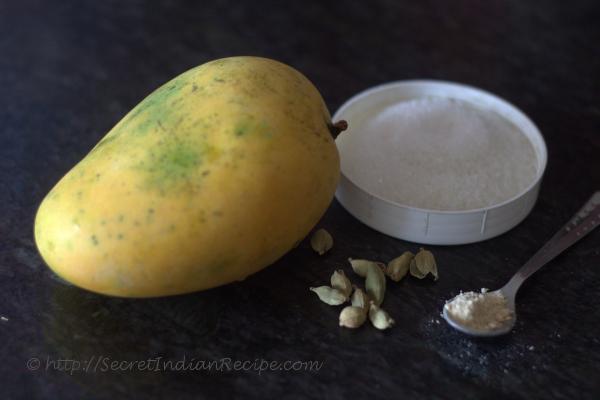 Ingredients:
Mango- 500 g
Sugar- 1 cup (depending on mango's sweetness)
Cardamom powder- 1/4 tsp
Dry ginger powder- 1/4 tsp
Saffron strands- 5
Warm milk- 4 tbsp
Directions:
Soak the saffron in warm milk. Peel and cube the mangoes.
In a blender, blend the mango with all the ingredients (dry ginger, cardamom, soaked saffron milk and sugar) to a fine puree.
Chill the aamras and serve it chilled with some saffron strands. Have it as a dessert or serve with pooris.