Aasto Maach Bhaja (whole Small Fish Fried With Spices)
This is a traditional Bengali recipe and I call it ' train fish' – The reason is our Bengali neighbor used to carry it for their dinner on every trip to Darjeeling during their summer holidays. I also accompanied them on two such trips. You should choose small fish for this recipe like ' Singhi', 'Mangur', which has only one mid bone but…… if you do not find the small fish then you can try it with other varieties of fish also.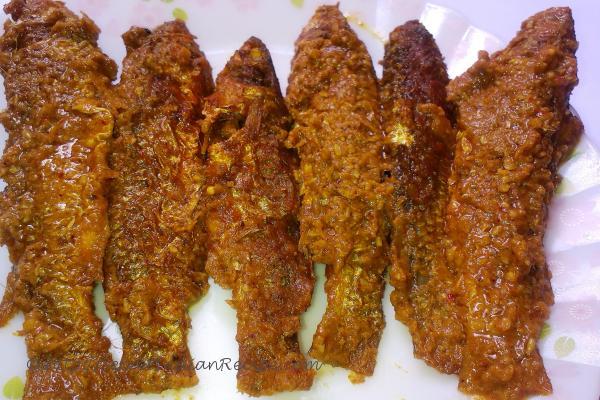 Ingredients:
Small fish – 500 grams or 10 pieces
Onion – 1 small piece
Ginger- ½ inch piece
Garlic – 6-7 cloves
Cumin seeds – 1 tablespoon
Mustard seeds – ½ tablespoon
Posto (Poppy seeds) – ½ tablespoon
Turmeric powder – ½ tablespoon
Whole red chilli – 2 pieces
Besan (Gramflour) – 2 tablespoon
Mustard oil – 4-5 tablespoon
Salt - As per your taste (To marinate and then in cooking)
Directions:
Wash the fish thoroughly, drain the excess water and then keep aside.
Marinate the fish with required amount of salt and turmeric powder.
To prepare the masala, grind onion, ginger, garlic, red chillies, mustard seeds and poppy seeds together in a grinder till it turns into a smooth paste. (For easy grinding keep the poppy seeds and mustard seeds soaked in water for 30 mintues.
Once the masala is prepared then heat the oil in a pan and add then slowly put the marinated fish in batches. Fry it till the surface turns golden brown and then take them out.
Once all the fishes are fried, add the masala in the remaining oil and fry on medium heat till it starts leaving the sides.
Now dissolve the besan in 1cup of water and pour it into the masala. Add the fried fishes and adjust the salt. Cover with a lid and cook on low heat for 10 mintues.
Check for excess gravy. The recipe is a dry recipe so if there is gravy, increase the flame and let the excess water evaporate.
Serve it hot with chappati or steamed rice.
Footnotes:
You can top it with some lemon juice and finely chopped green chillies to enhance the taste.
Other Indian Recipes that you may Like !