Achaari Paneer
#IndianPaneerRecipe
Achaari Paneer recipe is made with paneer and tangy and hot achaari masala. This recipe is flavourful, healthy and high in protein. This dish can be served as a side dish.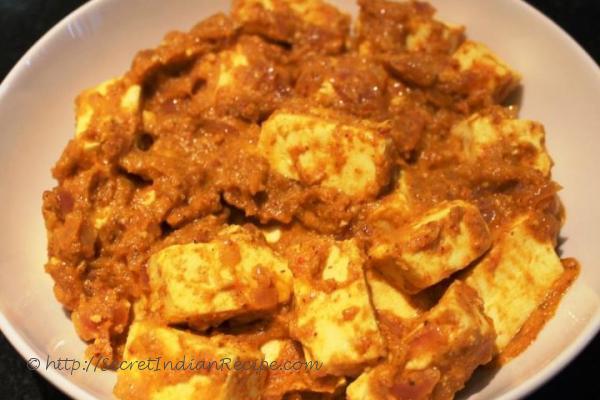 Ingredients:
Paneer – 2 Cup (diced)
Whole Red Chilies – 3 to 4
Cumin Seeds – ½ tsp
Mustard Seeds – ½ tsp
Fenugreek Seeds – ¼ tsp
Fennel Seeds – ½ tsp
Coriander Powder – 1 tsp
Tomatoes – 2 (chopped)
Bell Pepper – 1 (chopped)
Onion – 1 (chopped)
Salt – to taste
Turmeric Powder – ¼ tsp
Ginger & Garlic Paste – 1 tsp
Yogurt – 2 tbsp
Sugar – ½ tsp
Oil – 2 tbsp + ½ tbsp.
Vinegar – ½ tsp
Directions:
Heat a pan and dry roast Cumin Seeds, Whole red chillies, Mustard Seeds, Fennel Seeds and Fenugreek Seeds together. After that put it into the blender and make a powder.
Heat 2 tbsp oil in a pan and add chopped onions. Saute until it gets golden.
Now add ginger & garlic paste, turmeric powder, chopped tomatoes, salt, coriander powder and bell pepper. Mix well and cook it for 4-5 mins.
Put tomato and onion mixture into blender and make a coarse paste.
Now heat ½ tbsp oil in another pan and add tomato and onion paste, yogurt, achaari masala and saute it for 2-3 mins. If required, sprinkle some water.
Add diced paneer, sugar and vinegar and cook it for sometime.
Serve hot with roti or naan.