Achari Aloo (stuffed Potatoes With Pickle Masala)
Stuffed potatoes are quite common in north Indian weddings. It is either served as starters or as side dish with creamy gravy. But have you ever had potatoes stuffed with pickle masala?.....mmmmm if you like spicy and tangy food, you will surely like it. Unlike those served in weddings, it is quite simple to make and you can enjoy it with simple dal and rice. The main ingredients used are same as those used in making North Indian Pickle but the quantity is very important. This is because , the first time I tried cooking it, I took the same quantity of saunf, meethi and Kallonji and my potatoes turned quite bitter. So, if you want to enjoy these pickle masala stuffed potatoes, Please follow the instructions of measurement of ingredients. Here goes the recipe….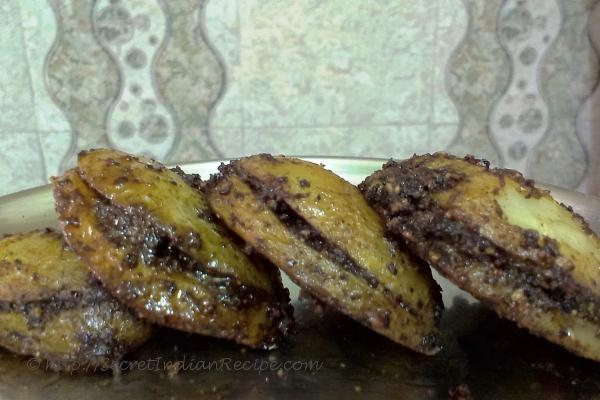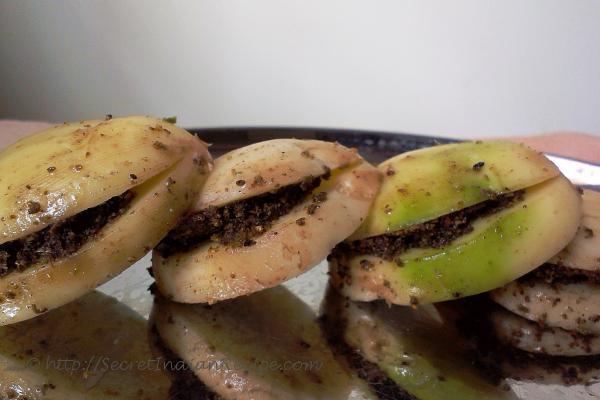 Ingredients:
Potatoes – 4(medium sized)
Saunf (Fennel seeds) – 3 tablespoon
Meethi (Fenugreek seeds) – 1/2 tablespoon
Kallonji (Nigella seeds) – ½ tablespoon
Red chillies – 2 pieces
Ajwain (Carom seeds) – ¼ tablespoon
Mustard Seeds - ¼ tablespoon
Salt – As per your taste
Red Chili pickle – ½ piece
Mustard oil – 3-4 Tablespoon
Directions:
Peel the potatoes and cut them vertically into half. Then in each half, make a side cut to fill the masala as shown in the picture.
To prepare the masala stuffing, heat a pan on the gas on low flame. Add Saunf, Meethi, Kallonji and Red chilies and roast for about 20 seconds. Then add the Ajwain and Mustard seeds nad roast till the aroma starts releasing from the spices. This will take another 20-30 seconds…..Keep the flame low or else you may burn the masala.
After roasting, immediately put them into grinder and grind into powder. Add red chili pickle and required salt (we need to add red chili pickle and it is already salted)and mix.
Take each potato and fill the masala stuffing inside.
Once all the potatoes have been stuffed, heat oil in a pan over medium flame and put the potatoes all together. Put a cover and cook the potatoes on low flame for 10 mintues.
Remove the cover and flip each potato carefully on the other side to cook it from all sides. Again put the cover and cook for 10-12 mintues.
Check if the potatoes are done. Drain out the excess oil and sprinkle some salt...about 1/2 teaspoon or left over masala over the potatoes and cook for a minute.
Serve hot with dal and rice.