Achari Murgh Tikka (grilled Chicken Tikka With Pickle Flavours)
This is the easiest starter you can prepare for a party also because this recipe uses readymade pickle rather achar masala lending it a special flavour. I prefer using Priya pickle's tomato pickle. I usually stock these in sachets and use them for all my achari preparations. Also there is something magical with the combination of ginger-garlic paste, kasoori methi and curd that enhances the taste of grilled chicken. I make my tikkas on my barbecue grill but this dish can be prepared in an oven or a pan. Spice it up with more chili powder, pickle or ground green chili paste.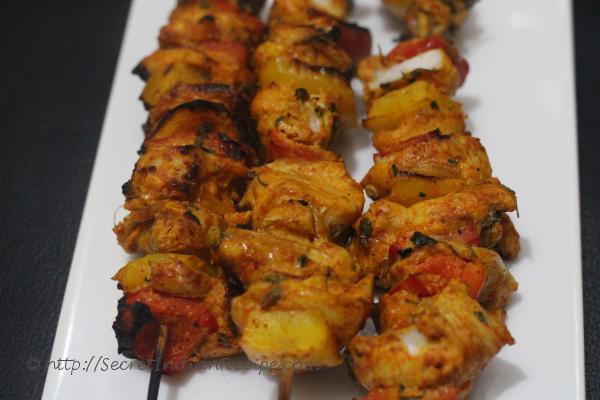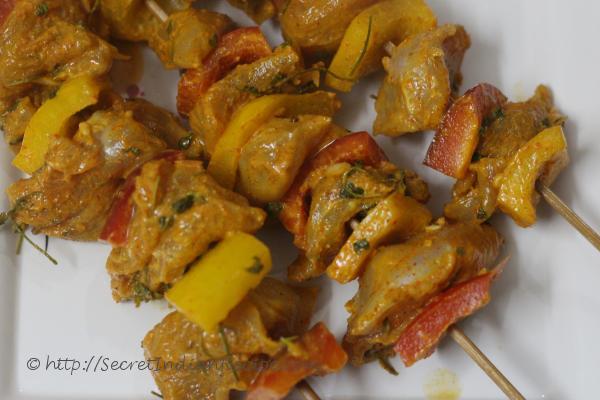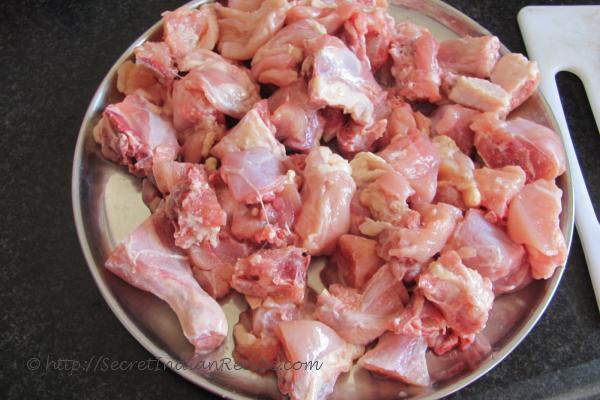 Ingredients:
Chicken- 250 g
Curd- 50 ml
Ginger-garlic paste- 2 tsp
Chili powder- 1 tsp
Kasoori methi- 1 tsp
Tomato pickle- 2 tsp
Bell pepper - 1 each (red, yellow, green)
Salt- to taste
Oil- for basting
Directions:
Wash the chicken pieces and pat them dry.Cube the bell peppers after de-seeding them.
In a bowl mix all the ingredients except oil. Marinate the chicken and bell peppers in the marinade and leave it on the counter for 2 hours.
If using skewers on the barbecue soak them for 30 minutes. If using an oven or stovetop ignore this step.
After the marination time skewer the bell peppers and chicken pieces alternating each time.
If you are going to barbecue prepare the barbecue grill and place the skewers on barbecue. Keep rotating the skewers and baste oil on top of the tikkas.
If you are doing this on stovetop, heat the pan and add some oil. Cook the skewers evenly over medium flame.
For the oven grill the skewers at 200 degrees for 10 minutes by rotating sides in between.
Serve with roti and chutney.
Other Indian Recipes that you may Like !