Achinga Mezhukkupuratti (long Beans Stir Fry)
Achinga mezhukkupuratti was a regular dish in my lunch box during my school days. The reason is that it is simple and needs less time to prepare. Achinga or long bean is a vegetable with low calorie, but it is a good source of thiamine, vitamin A, iron, phosphorous, potassium, vitamin C, etc. So adding this vegetable in your daily diet is a good option for making your body healthy. Whenever I prepare achinga mezhukupuratti, I always remember my childhood days, when I used to enter the kitchen to help my mother. She used to ask me to cut the long beans in small pieces, but as a child I always cut the beans in various sizes. When I grew up, achinga mezhukkupuratti was the first recipe that my mom taught me. Now when I prepare achinga mezhukkupuratti with my daughter, she always makes me remember my good old days with my mom in the kitchen, as she too cuts the achinga crazily as I did when I was a child.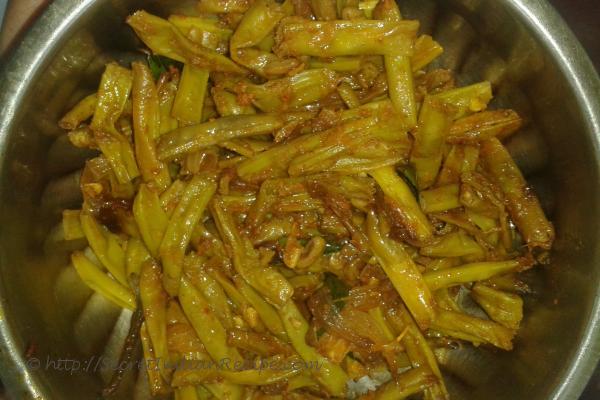 Ingredients:
Achinga or long beans - 250 grams.
Green chilli - 2 nos.
Coconut oil-2 table spoon
Onion, chopped - 1/4 cup.
Salt –as you need.
Chilli powder-1 teaspoon
Turmeric powder-1 pinch
Directions:
First wash and cut the long beans into 2 cm long pieces.
Cook it in a pressure cooker along with turmeric powder, salt, green chilli and a little water until you hear just one whistle of the pressure cooker.
Place a pan on the stove and switch on the stove.
Add oil into the pan and heat it.
Sauté the onion pieces in the oil until it reaches a light- brown color.
Add the chilli powder to the onion and sauté until the raw flavour of the chilli powder is gone.
Add the cooked long bean pieces into it and stir well.
Allow all the water in the long beans gets evaporated.
You can make it slightly crispy if you want by sorting it in the oil.
Note: There will be some oil that will be left after the water gets evaporated or you can add a little oil to sort it and make it crispy.
Footnotes:
You can avoid chilli powder if you don't want it so spicy.