Achinga Payar Thoran(yard Long Beans With Coconut)
Achinga Payer Thoran is a side dish for rice. It is also a traditional Kerala side dish for rice. We use to make this Achinga Payer Thoran in every Kerala Sadya and in marriage Sadya. My mom will cook this dish very well. I love this dish very much.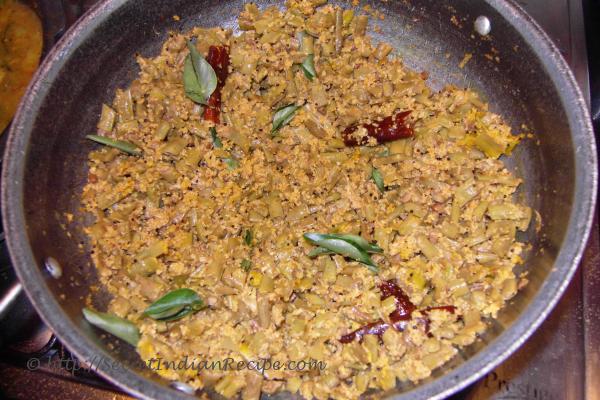 Ingredients:
Achinga payer- 250 gram
Grated coconut- 1/2 cup
Onion- 1/2 cup
Green chilli- 3
Turmeric powder-1 tsp
Curry leaves- few
Salt- to taste
Coconut oil - 1 tsp
Mustard seeds- 1 tsp
Dry red chillies- 2
Directions:
Chop Achinga payer and onions finely.
Grind together coconut, green chilli, onion, turmeric into a course form.
Mix together the chopped items with coconut mixture and salt.
Heat the oil in a pan.
Add mustard seeds, dry chillies and curry leaves.
Add the payar and mix well.
Sprinkle little water on the top and cover with a lid.
Cook on the low flame for 3 or 4 minutes.
Remove lid and continue cooking until it becomes soft.
Footnotes:
If this achinga is tender, then it tastes more.