Akki Manni (rice Manni)
Mangalore's most traditional sweet is Mani. It is a mouthwatering dish, usually prepared in my home. Manni is a kind of rice pudding which requires a lot of patience and time. It is very soft and very healthy stuff. Even a child will love eating it. This classic dessert is made out of rice cooked with coconut milk and flavored with jaggery, nuts and cardamom powder. Here i am presenting traditional south Indian dessert, hope you will try it and love it.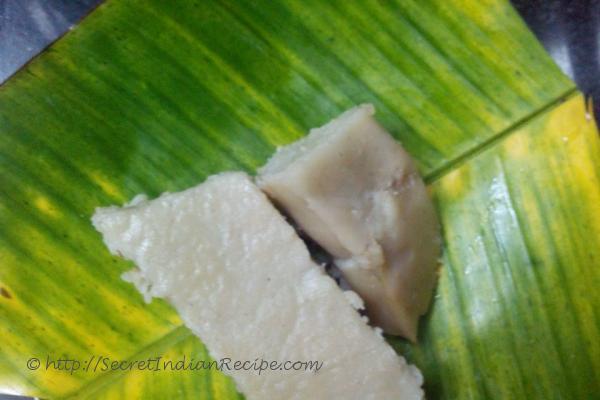 Ingredients:
Raw rice 150gms
150gms grated coconut (to extract coconut milk)
Cardamom – 3-4
Jaggery 150gms
1-2 tsp raisins
½ cup of cashew nuts
Ghee for greasing the pan & plate
Directions:
Soak the rice for an hour in water
Grind the grated coconut with a little warm water in mixer and transfer the mixture into a strainer and squeeze out milk, you can add some water and sqeeze it for the second time to extract the remaining milk from the grated coconut.
Grind the rice along with a cup of coconut milk
Mix this paste along with the remaining liquid, add cardamom powder & jaggery to make a thin batter
Add ghee to the pan and transfer the batter to the pan and cook it well till the batter becomes thick, add more ghee when it thickens boil until it become sticky
Add cashew, raisin and cardamom to the batter continue cooking
Take a tray and apply coat of ghee and transfer the batter into the tray and let it cool Once the batter cool down Rice Manni is ready to serve you can cut into different shapes