Aliv Che Laadu / Halim Ladoo / Garden Cress Seeds Sweet Balls
Aliv che laadu is a traditional Maharashtrian sweet made with iron and calcium rich Garden Cress seeds. It is a winter delicacy and is specially made for the new moms. The ladoos ( sweet balls) are made using jaggery , fresh coconut , dry fruits and garden cress seeds . These ladoos are very nutritious and provide warmth to the body. Though they are usually made for lactating mothers, people of all age can have this winter treats and are also made during festivals like Diwali.
Garden cress is called Aliv in Marathi and Halim in Hindi. It is an important source of iron, folic acid, calcium , vitamins C, E and A. The seeds are high in calories and protein and contain essential fatty acids .
Aliv che ladoo are very delicious in taste and are soft and sticky in texture. One ladoo can be had daily during winters along with milk as breakfast.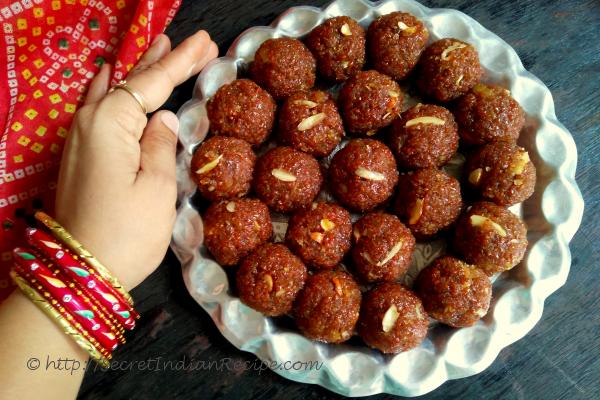 Ingredients:
1/2 cup Aliv / Halim / Garden Cress seeds
1 cup milk ( can use coconut water or plain water instead)
3 cups scrapped fresh coconut
3 cup Jaggery powder / grated jaggery
1 tablespoon Ghee
1/4 cup almond slivers
Directions:
Soak the garden cress seeds / Halim / Aliv in milk in a container for at least 1 hour. If time permits soak them for 2-3 hours. On soaking the seed coat swells and gets covered.
In a large vessel add the scrapped fresh coconut and jaggery powder. Mix well. To this mix add the soaked garden cress seeds. Mix all the ingredients and place the vessel in a pressure cooker. Add enough water to the base of the cooker.
Pressure cook for 2 whistles and put off the flame. Allow the pressure to release on its own. Now heat ghee in a non-stick wok. Add this cooked mix to it and stir fry very well. Keep cooking and stirring the mix until the mix begins to leave the sides of the wok.
Add the almond slivers to the cooked mixture. Mix well. Put off the flame. Allow the mixture to cool down enough to handle it. Make medium sized balls of the mixture using your palms. I could make 35 ladoos with the above quantity of ingredients. Once the ladoo cool down completely. transfer them to an airtight container and refrigerate. Use as per need.
Footnotes:
The garden cress seeds can be soaked in coconut water or normal water instead of milk.