Almond Chocolate Gujias
Almond Chocolate Gujia is my own invention.
I tried this recipe for this Diwali celebration and everyone just loved it. For kids, it's like WOW Yummy!!
This recipe was inspired from the Gujia sweet of Maharastra and Kajjikayalu of Andhra Pradesh.
Preparing this recipe is super simple.
Friends you also try this recipe and enjoy with your family and friends.#diwalirecipecontest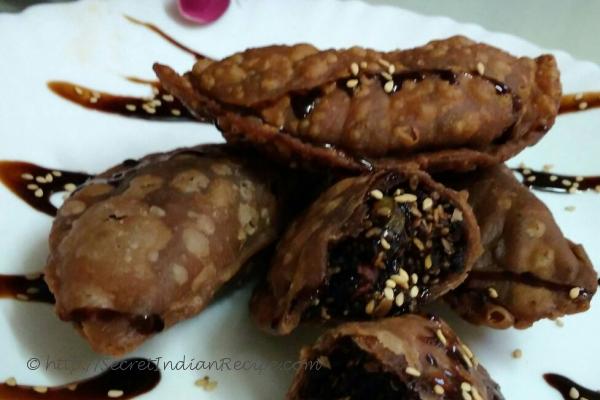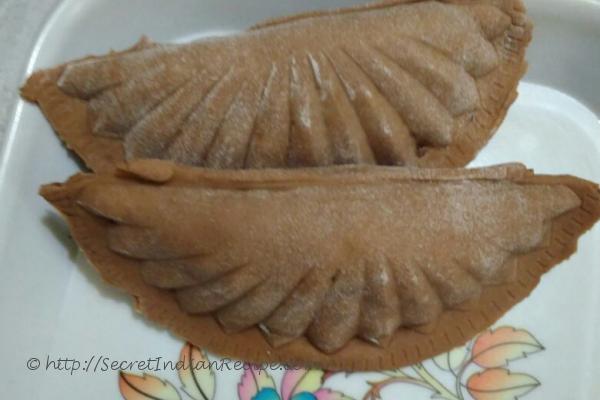 Ingredients:
Crushed Almonds: 100 grms
Ghee: one big table spoon
Scrapped Coconut: 70 grms
Raisins / Kismis: 20 grms
Roasted Sesame seeds: 50 grms
Dark Chocolate: 150 grms
Maida: 250 grms
Pinch of salt
Oil 100 ml
Cocoa powder: 3 tabel spoons
Oil for deep frying
Chocolate syrup
Sesame seeds for decorating: 1 big table spoon
Directions:
Dough preparation: In a bowl, take maida, salt, cocoa powder, warm oil. Mix well all these ingredients and make into smooth dough by adding sufficient water. Cover the dough with a lid and keep aside for about 10 minutes.
Stuffing preparation: In a Kadai, fry the crushed almonds with a table spoon of ghee till we get nice roasted smell. Add roasted sesame seeds, scrapped coconut and dark chocolate pieces. Mix well and fry for about 2 to 3 minutes. At this stage chocolate melts completely and mixes well with other ingredients. Allow this mixture to cool completely.
Pour oil in a kadai for deep frying the Gujias. Now take maida dough and divide into lemon size balls.
Take a dough ball roll like a thin puri. Now put a big spoonful of prepared almond stuffing in the center of the puri and close and make into Gujia like shape as shown in the picture.
Make the Gujjas with the dough in the same pattern. Now fry the prepared Gujias in hot oil on low flame till they get crispy.
Remove from the oil and keep on the absorbent paper. Now arrange the Gujias on a serving plate.
Decorate the Gujjas with the chocolate syrup and sprinkle some roasted sesame seeds on top. The Yummy Almond Chocolate Gujias are ready to serve.
Footnotes:
Add little suji or upma ravva to the maida for more crispier Gujias.