Almond Cocoa Rolls In Chocolate Cups
#my diwali recipe# almond & cocoa rolls in a delicious & yummy chocolate cups perfect for gifting this diwali to ur friends & relatives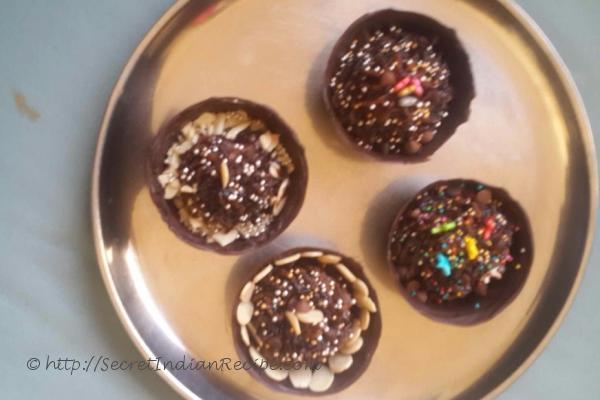 Ingredients:
Roasted almond powder -1/2 cup
Grated khoya -1/2 cup
Cocoa powder -1 1/2 tsp
Cardamom powder -1 tsp
Vanilla essence -1tsp
Powdered sugar - 1/2 cup
Milk -1/2 cup
Clarified butter -1 tsp
Desiccated coconut -3/4 cup
Dark choclate as per requirement
Almond flakes ,sprinklers & choclate sauce for garnishing
Directions:
In a microwave safe bowl add chopped dark choclate and micro for 30 seconds or till the choclate melts . As the choclate melts remove from the oven & pour 1 spoon each in choclatemoulds or cup cake moulds and brush it on all the sides of the mould . It should be evenly brushed on all the sides ,and keep in refrigerator for 5 minutes and then carefully unmould the cups & keep aside. Take a deep pan. Boil sugar , milk and clarified butter till the sugar melts and it is lightly thickened. Add grated khoya, almond powder, cocoa powder& coconut powder & cook till fat releases and it forms into a soft dough. Add vanilla essence & cardamom powder and mix well. Allow it to cool. Roll in to small balls . Put this balls in choclate cups & garnish with some choclate sauce , almond flakes & sprinklers & chill in refrigerator & serve.
Footnotes:
Allow the rolls to cool properly otherwise when u put in cups ; cups will start melting , so once the rolls r ready refrigerate it for half an hour & then proceed