Aloo And Potol Bhaja (fried Potaoes And Snake Gourd)
Aloo and Potol bhaja is Bengali relish. It is part of daily menu in most of the Bengali household. Aloo and potol are Bengali names for potato and Snake gourd (Pointed Gourd) or commonly known as Parval in India. (Potol in some countires is called snake gourd but it is popularly known as Pointed Gourd)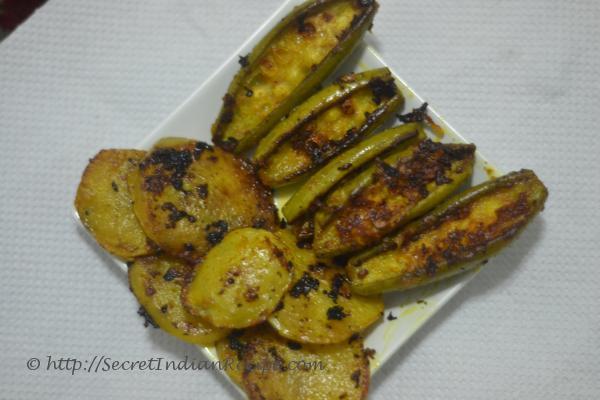 Ingredients:
Potol 50 grams (2 ounce)
Aloo 50 grams (2 ounce)
Garlic Paste 2 tablespoon
Red chili paste 2 tablespoon
Turmeric Powder ½ tablespoon
Mustard oil 2 tablesoon
Salt 1 tablespoon
Directions:
First cut potol into halves and slice the potatoes in ½ inch thick round shape. Dip them in salt water and leave for 5 mintues.
In a karahi put oil and cook the potol till it is half done. Add potatoes and cook in low flame with the lid on, till they become tender.
Afterwards add garlic paste, red chilli paste, turmeric powder and salt and cook with the lid on on slow flame for another 2-3 mintues.
Aloo and Potol bhaja is ready. It is usually served with Rice or 'Khichiri'.