Aloo Aur Kaddu Ki Sabzi (potatoes Cooked With Pumpkin)
This curry is a fusion between the Mathura ke dubki wale aloo and sweet and sour pumpkin curry. I find pumpkin curry as such quite sweet but I have been mulling over how to do a pumpkin curry for pooris. So after a lot of recipe hunt I decided to go ahead and do a curry of my own. It has few elements borrowed from the sattvic style of cooking my friend does, but I did add an onion because I could not resist it. But her style of cooking pumpkin had fenugreek seeds, jaggery, asafoetida and dried mango powder as key ingredients. I guess I retained that style but modified the sweetness part with the help of tomatoes. We had this curry with palak pooris and onion pickle. The recipes of both these dishes are on my page so try it out; it is an exciting combo for any meal.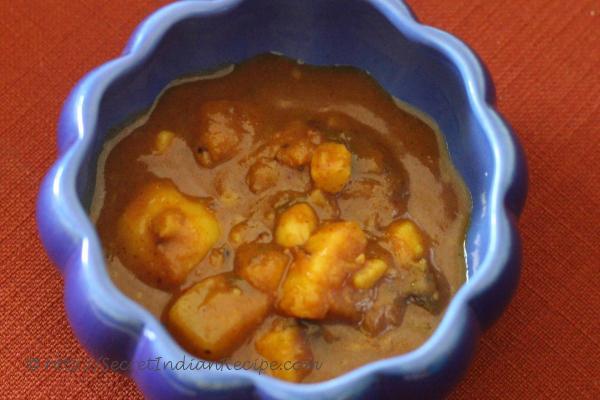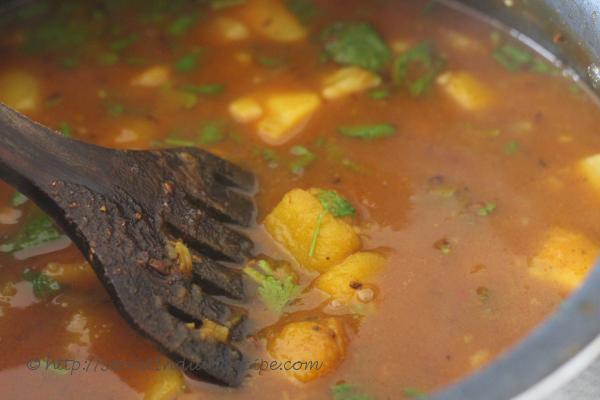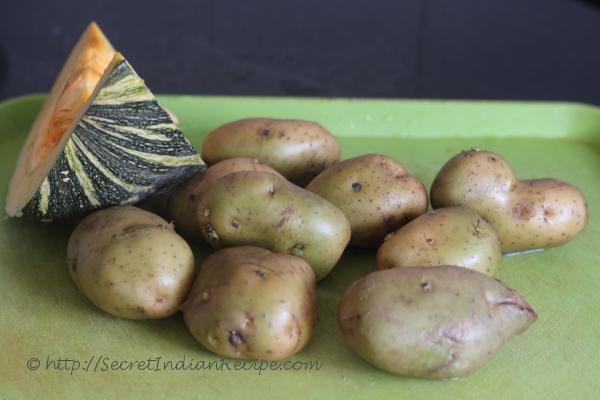 Ingredients:
Potatoes- 6
Pumpkin- 200 g
Onion-1
Tomatoes- 2
Chili powder- 1 tsp
Asafoetida- 1 pinch
Turmeric powder- 1/2 tsp
Coriander leaves chopped- for garnish
Oil- 2 tsp
Fenugreek seeds- 1/2 tsp
Cumin seeds- 1 pinch
Salt- to taste
Tomato puree- 200 ml
Dried mango powder- 1 tsp
Jaggery- 1 tsp
Directions:
Peel the pumpkin and cut them into small cubes. Cube the potatoes as well.
Boil the potatoes with salt and turmeric powder. When the potatoes are half cooked add the pumpkin and cook further till both potatoes and pumpkin has cooked well.
Heat oil in a pan. I suggest you use mustard oil for this preparation.
Add the cumin seeds first. Once the cumin sputters, add the fenugreek seeds. Let the fenugreek seeds brown a bit and add the minced garlic and chopped onions.
Saute till they are translucent and add the chopped tomatoes followed by salt.
Once the tomatoes breakdown, add the tomato puree, chili powder and asafoetida.
Let the gravy simmer and add the pumpkin and potatoes into this gravy. Cook the vegetables with the gravy for 5-8 minutes.
By now the veggies would have mashed a bit. Add the jaggery and dried mango powder also known as amchur.
Give the curry a final stir and switch off the flame after garnishing with chopped coriander leaves.
Footnotes:
You can also fry the potatoes after marinating them with salt and turmeric for 30 minutes. And in this case the pumpkin should be cooked separately.