Aloo Bhare Karele (bitter Gourd Stuffed With Potato)
I have some sweet childhood memories associated with this side dish. My best friend Poonam's father was in Army and they used to stay in Ballygunj Military Camp. Life at camp is a little different. All the amenities like play grounds, grocery even school is within the campus so as a kid, you have limited interaction with outside people. For me the best thing was the greenery of the place. I used to go to her place quite often. During weekends they sometimes used to have family lunch. Where each family used to cook one dish and then share it with others. Poonam's family was vegetarian and Aunty used to cook awesome vegetarian dishes. One of Poonam's favorite was ' Aloo Bhare Karele''.I have had it so many times in my childhood that I never bothered to cook it myself. But now, since I have lost contact with her, cooking this recipe is a way to recall these memories.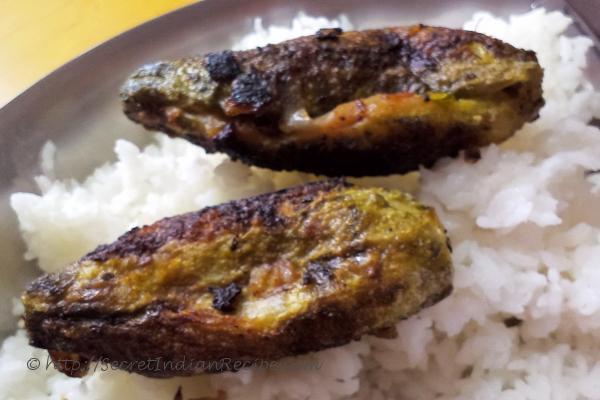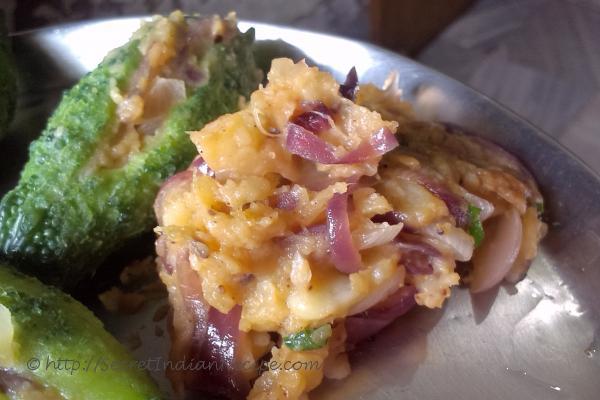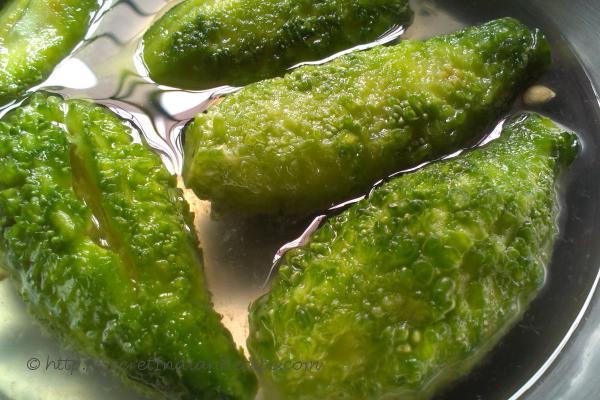 Ingredients:
Karele (Bitter Gourd) – 250 Grams (Medium sized)
For Stuffing
Boiled Potatoes – 2
Cumin seeds – ½ teaspoon
Onion – 1 chopped finely
Tomato – 1 chopped finely
Turmeric powder – ½ teaspoon
Green Chilies – 2-3 chopped finely
Green Coriander Leaves – 2 tablespoon chopped
Amchur (Dry mango Powder) – 1 teaspoon
Salt to taste
Mustard Oil - 4-5 tablespoon
Directions:
Wash and peel Bitter gourd. Make a cut from one side and take out the seeds. Rub salt and lemon juice over and inside and keep it for an hour. This will remove the bitterness.
For stuffing, heat 1 tablespoon oil in a pan on medium heat and add cumin seeds. As they begin to pop, add chopped onions and fry till they turn a little soft. Add turmeric powder, chopped tomatoes, green chillies and continue to fry for another 1 mintue. Now add mashed potatoes, salt to taste, dry mango powder, and coriander leaves and cook till all are mixed together.
After an hour wash Bitter gourd 2-3 times under fresh water to remove excess salt. Squeeze them gently to extract all the water.
Now dry them with a kitchen towel and fill the stuffing carefully.
Heat oil in a pan on low flame. Carefully place all the stuffed Bitter Gourd. Cover with a lid and let it cook for 10 mintues. Again turn each Bitter gourd to the other side and cook again for 10-12 mintues.
Check with a knife, if all have been cooked well. Sprinkle some salt and dry Amchur powder and serve hot with steamed rice and Dal.