Aloo Chop (potato Croquettes)
Aloo chop is a bengali telebhaja ( snack) recipe. Bengalis have a culture of having telebhaja ( fried snacks) and moori ( puffed rice) in the evening along with their family and friends. Aloo chop is a most common telebhaja.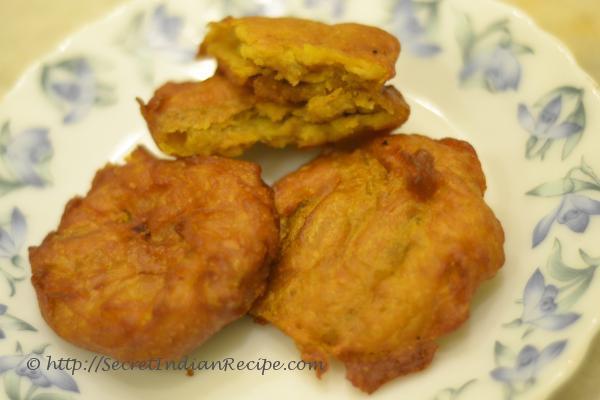 Ingredients:
1 cup besan ( gram flour)
2-3 boil potatoes
1/2 tablespoon turmeric powder
1/2 tablespoon red chilli powder
1/2 tablespoon garam masala powder
1/2 tablespoon salt
1/2 tablespoon ginger garlic paste
Oil for frying
1/2 tablespoon roaksalt
Directions:
Pour the besan in a bowl, add ginger garlic paste, !/2 of turmeric powder , 1/2 of salt and mix well. Add required amount of water and make a thick batter.
In another bowl mash the boiled potatoes, add remaining turmeric powder, red chilli powder, salt and garam masala and mix well.
Make small rounds out of potato mash and then flatten it keep it in between your palms like tikkia
Heat oil in a karahi for frying aloo chop.
Now take one aloo tikkia , dip it in besan batter and then put in hot oil. Frying till the surface becomes golden brown. Serve hot with moori and tea
Footnotes:
Do not overboil the potatoes otherwise it will be difficult to make tikkias
Pour water slowly to make batter, it should be thick enough to form a coat over the aloo tikkias.