Aloo Datha Ki Sabzi(a Simple Drumsticks Dish)
This is one of my favorite sabzis, I love having this veggie with plain rice. Its a very simple curry dish prepared with mustard and garlic.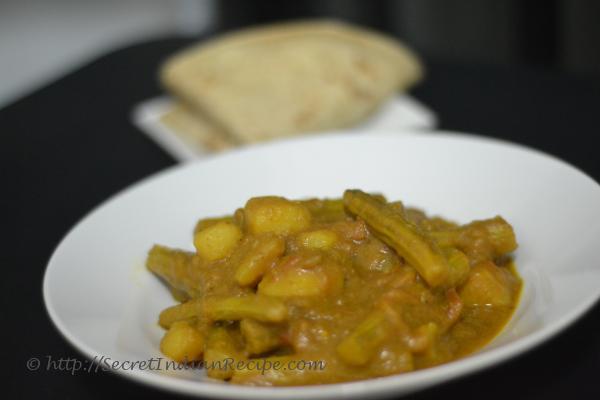 Ingredients:
Datha ( Drumsticks) - 150 grams
Aloo ( Potatoes) - 2 medium size
Tomato - 1 piece
Garlic cloves - 7-8
Red chilli - 1 piece
Turmeric powder - 1/2 tablespoon
Sarson( mustard seed) - 1 tablespoon
Mustard oil - 7-8 tablespoon
Salt - 1 tablespoon
Directions:
Wash datha. To chop the drumsticks, first lightly scrape the top skin with a knife. if you use a peeler it will peel off quite a thick layer. So just use a sharp knife to scrape the skin in parts. It need not be perfect. Just roughly. Cut into 2 inch pieces. Cut potatoes in medium size and keep aside
Grind garlic, red chili and sarson with little water to make a smooth paste.
Heat oil in a karahi and add the datha. Fry the datha till it becomes slightly brown. Remove and keep aside
In the remaining oil add potatoes. Fry on high flame till they become brown. Remove and keep aside.
In the remaining oil put the sarson and garlic paste. Add chopped tomatoes. Saute for a mintue.
Now add fried datha, aloo, turmeric powder, salt and 1 and 1/2 cups of water and mix well.
Increase the flame to let it boil. Now put a lid on and cook the vegetables on low heat until they become tender.
Serve hot with plain rice.
Footnotes:
You can add lemon juice or raw mango instead of tomatoes for a festive dish