Aloo Gobi Ki Tehri (potato And Cauliflower Yellow Rice)
Awadhi cuisine has loads of impact on the influence of foods in India. The Nawabs of lucknow had keen interest in food and they considered food as a means to satisfy their soul. Tehri is one of the recipes. Though Briyani is one of the most characteristic dish which laid the foundation for the identity of Indian cuisine all over the world, Tehri too did not lost its place from the history of awadhi cuisine.
Tehri is a kind of yellow rice flavored with garam massala and vegetables. The kind of vegetables being used can vary upon the season and availability of it. The spices too can be checked as per your diet.
Tehri did quite saved me number of times when i use to work in hotels where regular staying guest often complain of getting bored of the same briyanis and pulao being used in buffet. Therefore I always use it as an important tool to make such guests happy.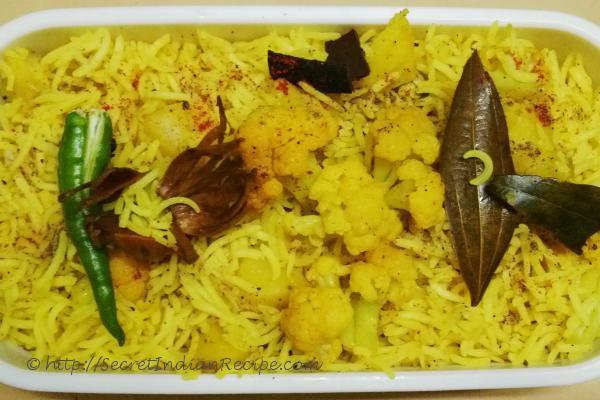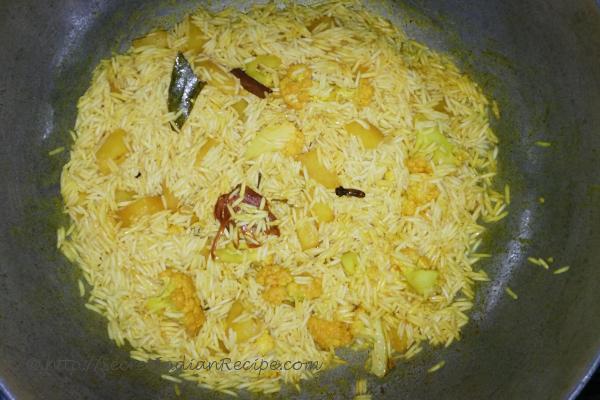 Ingredients:
Basmati rice- 200gm
Potatoes (peeled and cut into cubes)- 1
Cailiflower Florets- 10 pc
Ghee- 100ml
Turmeric powder- 1/2tbsp
Dry Ginger powder- 1/2tbsp
Chilly powder- 1/2tbsp
Garam masala powder- 1tbsp
Bay leaves- 2
Cloves- 2
Cinnamon- 1
Cardamom- 2
Mace- 1
Salt- To taste
Hot stock/Water- 400ml
Directions:
Wash in running water and soak the rice for 20 minutes.
Heat ghee and add cloves, cinnamon, bay leaves, cardamom and mace to it. Fry over a medium heat until it turn brown. crackle nicely.
Add potatoes and cook it half over a medium heat.
Then add cauliflower and cook for another 2-3 minutes.
Add turmeric powder, ginger powder and rice stirring slowly to avoid breaking of rice.
Add hot stock/water which should be one and half inch above the rice.
Now stir in salt, chilli powder and cover it with a lid. Finish off cooking either in the oven or griddle.
Sprinkle garam masala powder over the rice, toss lightly and serve hot.
Footnotes:
While adding stock or water make sure its hot or else tehri will become khichdi.
Try using your own garam masala instead of ready made packets available at markets. Don't forget to add Dry rose petals into it. It will give your masala a delightful aroma.