Aloo Gobi Masala (potatoes And Cauliflower Spicy Stir Fry)
Aloo Gobi is possibly an everyday dish in many households of India. This is one dish which has many variations and it is prepared differently in many parts of India parts of India.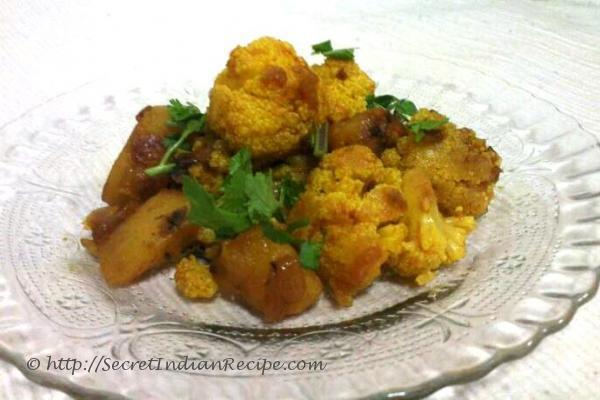 Ingredients:
1 medium Cauliflower
2 onions finely chopped
1 Large tomato finely chopped
1 Tbsp Ginger peeled and finely chopped
1 tsp Garam Masala
1 Tsp Dhania Powder (Coriander powder)
1/2 Tsp Jeera powder (Cumin powder)
1/2 Tsp turmeric
1/2 - 1tsp Chili Powder
salt to taste
2 tbsp fresh chopped coriander
1/2 tsp Jeera
Directions:
Heat oil in a deep pan or kadhai, when hot add the jeera and wait till it splutters. Add the onions a little salt and saute till onions turn translucent
Add chopped ginger, turmeric, chili, dhania and jeera powders. Give it a quick mix and add in the tomatoes
On medium heat keep stirring till the masala comes together to form a thick saucy consistency
You may add a few tablespoons of water if the masala becomes too dry. But adjust seasoning accordingly
Now add the potatoes cover and cook for 5 minutes. Then add in the cauliflower, salt, garam masala and half of the chopped coriander leaves. Save some for garnishing
Cover and cook on medium heat for 15 mins, stirring occasionally.
Garnish with coriander and serve hot with rotis