Aloo Gobi (potato And Cauliflower Curry)
Aloo gobhi is all time favourite of Indians not only in India but also people who have migrated to other counties also cook Aloo Gobhi quite often. This reminds me of the movie, ' Bend it like Beckham' where the mother of the Sikh girl aspiring to play soccer at national level tells her the importance of cooking ' Aloo gobhi' over soccer to get the right match. At the end of the movie the girl brings the soccer trophy but admits that although she cannot make ' Aloo Gobhi' but can ' bend it like Beckham'.....it was just a dialogue from the movie but it tells how ' Aloo Gobhi' is integral to Indian food. Gobhi is a seasonal vegetable, mainly available in autumn and winter but nowadays it is found throughout the year in supermarkets. It is almost a daily side dish in India and this being an Indian website, we cannot afford to miss out this recipe. Here is a very basic way of making aloo gobi.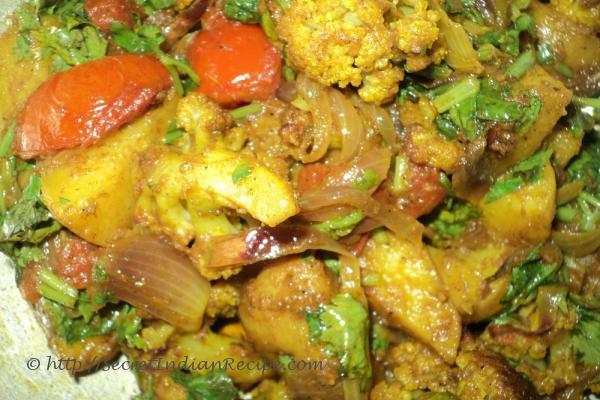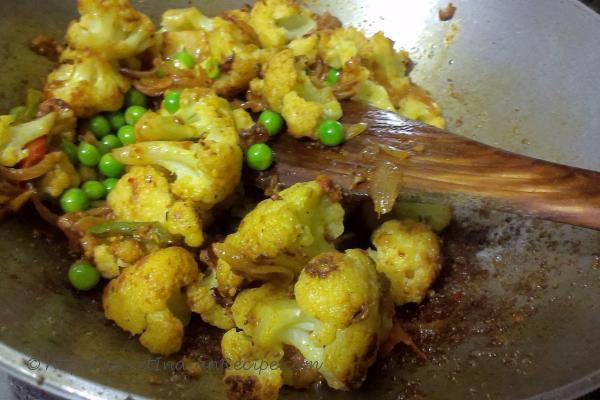 Ingredients:
Gobi (cauliflower) 200 grams (7 ounce )
Aloo (potatoes) 100 grams (3.5 ounce)
Matar (peas) 50 grams (2 ounce)
Onion Paste 1 onion
Ginger-garlic paste 2 tablespoon
Asafoetida 1 pinch
Cumin powder 1 tablespoon
Black pepper powder ½ tablespoon
Red chilli powder 1 tablespoon
Garam masala powder ½ tablespoon
Sabzi masala powder 1 tablespoon
Tomato 1 (chopped)
Green coriander leaves 2 tablespoon (chopped)
Mustard Oil 5-6table spoon
Salt 1 tablespoon
Directions:
Cut the cauliflowers and boil it for 10 mintues. Drain the excess water and keep it aside. Cut the potatoes in quarter and keep it aside.
Heat the mustard oil in a karahi and put asafoetida . Once the aroma starts coming out put the cauliflower and fry it till it turns golden brown. Take it out and keep aside.
In the remaining oil put the potatoes and fry it for 2-3 mintues.
Add onion and ginger garlic paste. Saute for 2 mintues and then add cumin powder, black pepper powder, red chilli powder, garam masala, sabzi masala , tomato and salt. Mix well and cover the karahi with a lid.
Put the gas on lowest possible flame for 10 mintues. Stir once in between, so that the masala doesn't get burned. Check if the potatoes are almost done . Add the gobhi, matar and ½ cup of water. Again cover it with a lid and cook for 5 -7 mintues. Afterwards check consistency and the garnish it with green corianders and serve hot.