Aloo Ka Paratha (potato Stuffed Indian Bread )
This is one of the most common breakfast dish in India.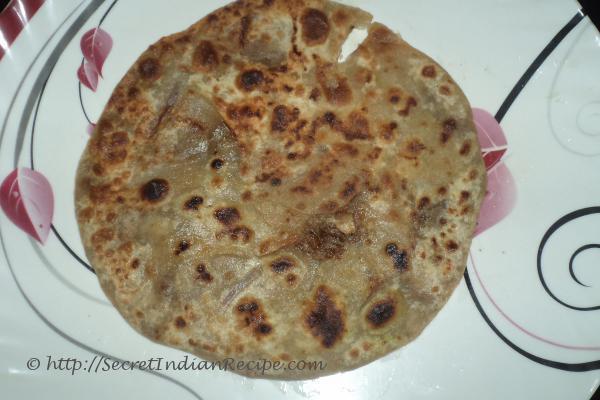 Ingredients:
For stuffing :-
Boiled potato - 6 medium size
Salt - to taste
Garam masala - 1/2 tablespoon
Red chili powder - 1/2 tablespoon
Mango powder - 1/4 tablespoon
Chopped green chili - 4 pieces
Chopped green coriander - 1 table spoon
Chopped onion - 2 table spoon
Pomegranate seeds - 1/2 tablespoon
For dough:-
wheat flour - 2 1/2 cup
water - as required to make a smooth dough
Directions:
To make the dough -
Take flour in a bowl, add required water and knead it into a dough.
To make the stuffing -
Peel off the boil potatoes and mash them in a bowl.
add salt , green chilies , red chili powder , garam masala , mango powder , green coriander leaves, onion, pomegranate seeds, to the mashed potato. and mix it well. your stuffing is ready.
for paratha :-
take portion from the dough and round it, flat it a little bit like 7 to 8 diameter .
Now place 1 tablespoon of stuffing on the centre of the flat dough . and fold it from the up side like a momo .
Flatten the stuffed ball nicely with the help of rolling pin.
now take a pan and place the chappati over it now wait till both the side gets a little cooked , now brush oil over the chappati and wait till both the becomes red and crisp.
your paratha is ready to be served.serve it with sauce or chuttney .