Aloo Ki Puri (stuffed Potato Puri)
Aloo ki puri is a very common recipe across India. The main ingredient of the dish is Aloo or potato. This dish is prepared especially in the Northern part of India. Potato is mixed with different spices ad used as a filling. It is the variation in spices which leads to difference in taste. For example, if you have Aloo puri in any Marwari(Natives of Rajasthan) household, you shall find liberal use of red chilli powder and Amchur powder(dried mango powder) whereas in Uttar Pradesh, chopped coriander leaves, green garlic and green chili is used to enhance the taste. Since I am from Uttar Pradesh and I am accustomed to their taste, I use the same ingredients, but Instead of using chopped greens , I grind them for better taste and color. I hope you will also like this new twist. So here goes the recipe....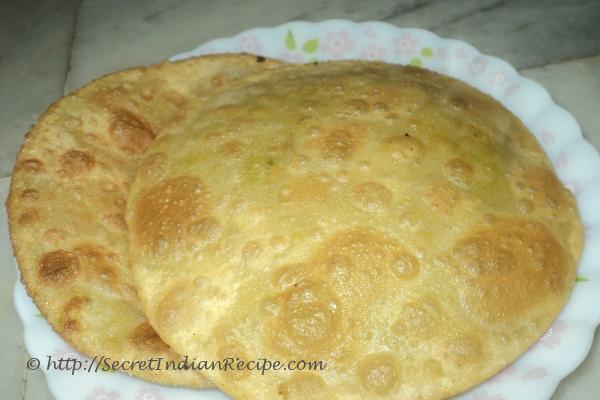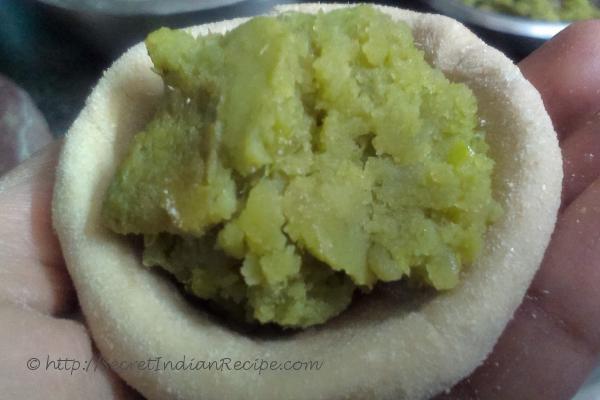 Ingredients:
Aloo (potatoes) 150 grams (3.5 ounce)
Coriander leaves 25 grams (1 ounce)
Garlic 5-6 clives
Green chillies 3-4 pieces
Salt 1 tablespoon
Refined oil 50 mililitre
Atta / Maida (wheat flour / refined flour) 4 cups
Directions:
Boil the aloo, peel and mash it with a spatula.
Grind the coriander leaves, greenchillies and garlic together to form a paste. Add the paste in mashed potatoes along with the salt and keep it aside.
Take the atta in a bowl and put 2 tablespoon of oil mix it together then put some water and make dough.
Make small balls from the dough and stuff it with aloo mash and with the help of chawka and belan ( rolling spin) flatten it to make 'puries".
Switch on the cooking gas and place a pan or karahi on high flame. Put refined oil and shallow fry the 'puries'. Our aloo ki puri is ready, Serve it with curd.